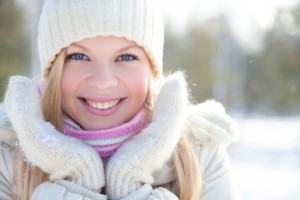 As we prepare to welcome the New Year and all of the promise it brings, we invite you to take a moment to consider your smile. Are you happy with the appearance of your teeth and gums? Perhaps there are just a few minor aspects you'd like to change, or maybe you are more interested in a total smile transformation. At D'Amico & Mauck, DDS in Aurora, CO, Dr. Nicholas D'Amico and Dr. Matt Mauck offer an extensive range of cosmetic dentistry services designed with your most beautiful smile in mind, including porcelain veneers.
Are Porcelain Veneers the Right Choice for You?
Porcelain veneers are among the most popular cosmetic dentistry options available today, capable of correcting a wide range of aesthetic flaws in as few as two visits to our Aurora, CO office. These customized shells of dental porcelain fit perfectly over the surfaces of your existing teeth, creating a beautifully radiant and uniform smile that still looks and feels completely natural. There are many reasons that are patients choose porcelain veneers, including the following:
The desire to mask imperfections in one or more teeth, including chips and cracks
Feelings of insecurity regarding deep stains in enamel or gaps between teeth
The need for straighter teeth without the use of braces
Embarrassment about the size, shape, or orientation of teeth in relation to the amount of gum tissue present
Porcelain veneers are meticulously crafted to match the shape, size, and color of natural teeth. The material used even reflects light in the same way that tooth enamel does, so you never have to worry that your teeth look unnatural. What better way to welcome the New Year than with a gorgeous new smile? Porcelain veneers from Drs. D'Amico and Mauck can turn your vision of a flawless smile into a reality, just in time for the start of 2015.
New Year, New You: Cosmetic Dentistry in Aurora, CO
If you're ready to kick off the New Year right with a bright, confident smile you're proud to show off to the world, we can help. Give us a call today to schedule your consultation, and learn more about how porcelain veneers can revitalize and rejuvenate your smile. From our state-of-the-art Aurora, CO dental office, we proudly serve families from throughout the surrounding areas of Centennial, Englewood, Denver Tech Center, Parker, Denver, and more. Our team genuinely looks forward to providing you with exceptional dental care in an environment that is as friendly and warm as it is high-tech and modern. We can't wait to see your beautiful smile!