Millions of American men and women wear dentures, but this removable restorative prosthetic isn't the right answer for everyone. Advances in modern restorative dentistry now make it possible for dentists to offer a wider variety of tooth replacement solutions, including implant-retained dentures. At D'Amico & Mauck, DDS in Aurora, CO, Dr. Nicholas D'Amico and Dr. Matt Mauck provide edentulous patients with a way to enjoy a fully functional bite and a gorgeous smile that looks and feels completely natural.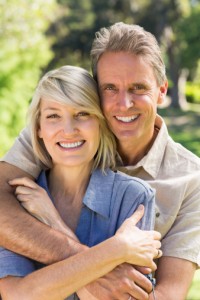 Advantages of Implant-Retained Dentures
While traditional dentures do meet the basic needs of many Americans, a substantial number of patients missing all of their teeth are more inclined to seek a more permanent and stable tooth replacement solution. Fortunately, it is now possible to combine the realistic look of custom dentures with the security and support afforded by dental implants.
With implant-retained dentures, the full arch of custom-crafted replacement teeth is affixed to the jaw using biocompatible titanium posts. These metal implants are surgically placed within the bone of the jaw for unparalleled stability. Worries of slipping dentures, discomfort, and embarrassing moments when speaking or eating become a thing of the past. You can finally enjoy the freedom and confidence that comes with knowing that your dentures will stay in place, no matter what. Drs. D'Amico & Mauck will happily sit down with you to discuss your unique case, your needs, and your expectations. Our goal is to ensure your comfort, health, and happiness, and we're always here to answer any questions you may have regarding our restorative dentistry solutions.
Implant-Retained Dentures: Restore Your Confidence
Contact our office today to schedule your consultation with our experienced, knowledgeable doctors and staff. We genuinely look forward to providing you with exceptional dental care in an environment that is as high-tech as it is warm and welcoming. Our dental practice in Aurora, CO is privileged to serve families from throughout the surrounding areas as well, including Centennial, Denver, Englewood, Parker, Denver Tech Center, and beyond.