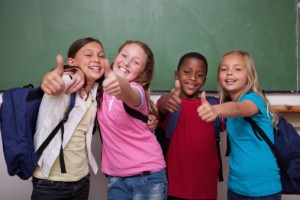 As the summer break draws to a close, busy parents from across the country are gearing up for the coming school year. There are school supplies to buy, schedules to coordinate, and plenty else to do as your prepare your children for their first day back to school. At D'Amico & Mauck, DDS in Aurora, CO, Dr. Nicholas D'Amico and Dr. Matt Mauck want to make getting your little one's smile ready for school as easy and convenient as possible, so we offer a comprehensive selection of family and children's dentistry services all under one convenient roof.
Preventive Care for the Whole Family
When it comes to keeping your child's smile healthy and looking its best, preventive dental care visits are crucial. It is during this type of appointment that we get the opportunity to assess the overall health of the teeth and gums, providing extra protection against tooth decay as needed. We may recommend treatments like fluoride supplements and dental sealants, both of which help fortify tooth enamel and protect teeth from cavities. Fluoride treatment strengthens enamel by correcting the demineralization that occurs with everyday eating and drinking, and sealants offer an extra layer of defense against bacteria and acid erosion.
A routine preventive dental visit also gives our doctors a chance to talk to your child about home hygiene habits in a way they can understand. Working as a team, parents and their child's dentist can ensure years of healthy, beautiful smiles free of decay and other concerns. We'll always take the time to makes sure your son or daughter is completely comfortable and that you're fully apprised of all treatments we recommend.
Schedule Your Child's Visit Today
When school gets underway, we know you'll be busier than ever. That's why we encourage you to schedule your child's preventive care visit now, ensuring a happy and healthy smile for the semester to come. Contact our office today and talk to our friendly, caring team about how just one simple visit can make all the difference in your child's oral health. Our state-of-the-art dental practice in Aurora, CO warmly welcomes patients from throughout the surrounding areas as well, including Englewood, Denver, Centennial, Denver Tech Center, Parker, and beyond.