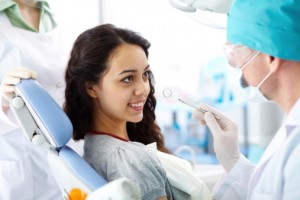 General dentistry encompasses everything your smile needs to stay healthy for a lifetime, and a good relationship with your Aurora, COgeneral dentist is truly invaluable. At D'Amico & Mauck, DDS, Dr. Nicholas D'Amico and Dr. Matt Mauck offer an extensive array of family dentistry services to residents of the entire Denver area and surrounding communities, making it easy and convenient for you to get the gentle, effective care your smile deserves.
Preventive Dentistry for Happy, Healthy Smiles
When it comes to caring for your teeth and gums, prevention is the best medicine by far. It is far easier and more pleasant to address oral health concerns when they are minor than it is to tackle a larger problem after it has worsened. With general dentistry services like routine exams and cleanings, our team can protect your teeth from harmful decay and prevent gum disease with comprehensive periodontal care. General dentistry appointments also serve as the perfect opportunity to bring up any concerns or questions you may have about your oral health and the appearance of your smile.
In addition to biannual cleanings and exams, Drs. D'Amico and Mauck offer additional general dentistry solutions to keep your family's smiles safe from the most common oral health concerns. With periodontal care, we prevent and treat gum disease. Utilizing the latest in oral appliance technology, we can help you stop grinding your teeth (bruxism) and clenching your jaw (TMJ disorder). If you or your children are involved in sports, ask us how a custom athletic mouthguard can protect your family's smiles from injury on the field and on the court. We're also happy to offer general advice on how to improve your home hygiene routine.
Schedule Your General Dentistry Visit Today
Has it been more than six months since your last checkup and cleaning at the dentist? If so, it's time to give us a call and schedule your appointment. We'll ensure your complete comfort throughout your visit, always taking the time to listen to your questions and explain any treatment recommendations thoroughly. Our team wants you to leave our office already looking forward to your next checkup. Conveniently located in Aurora, CO, D'Amico & Mauck, DDS is proud to serve families from throughout the surrounding areas, including Denver Tech Center, Englewood, Centennial, Denver, Parker, and beyond.