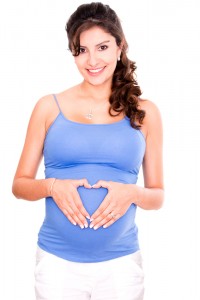 What Does Periodontal Disease Have to Do With Pregnancy?
When you think of gum disease, or periodontal disease, what's the first thing that comes to mind? Is it swollen gums, bleeding when you floss or increased sensitivity? What about babies? Though a newborn child probably isn't even on the list of things you think about when you consider periodontal disease, perhaps it should be. Gum disease can actually prove incredibly dangerous to an unborn baby if its mother fails to receive proper treatment. This is why our Drs. D'Amico and Mauck in Aurora, CO offer exceptional preventative dental care to all of our patients, defending against gum disease and other oral health conditions before they cause a potentially serious problem.
The Important Connection
When a pregnant woman suffers from periodontal disease, the harmful bacteria in her mouth can travel through her bloodstream and affect the well being of her baby. In fact, women with untreated gum disease are seven to eight times more likely to give birth to a preterm infant.
Babies born before 37 weeks are at a higher risk for complications like respiratory failure, heart conditions and digestive issues. They may not feed normally and are typically underweight for the first few weeks to months of their lives.
Fortunately, periodontal therapy and routine cleanings are all that it takes to protect yourself and keep your bundle of joy safe and healthy. If you're pregnant or thinking about making an addition to your family, Drs. D'Amico and Mauck would like to welcome you to our office in Aurora, CO for a cleaning and exam to ensure optimal dental health, for now and in the future. Contact us today to see what a difference our commitment to our patients can make for you. We also serve patients in Parker, Englewood, Denver, Centennial and the surrounding areas.