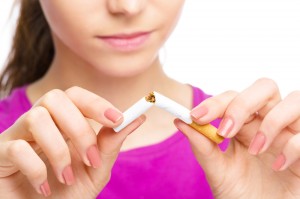 It's common knowledge that smoking can lead to bad breath and stained teeth, as well as a whole host of medical problems that affect various parts of the body. It may surprise you to discover, though, that cigarettes can lead to a number of other, lesser known complications that directly affect your oral health. Dr. Nicholas D'Amico and Dr. Matt Mauck at D'Amico & Mauck, DDS in Aurora, CO want you to be aware of some of the hidden consequences of smoking and what you can do to protect yourself.
Unseen Oral Health Hazards
In addition to causing the obvious cosmetic issues for which they are notorious, cigarettes can wreak havoc on your overall oral health in ways that aren't so immediately visible. Smokers are, for example, significantly more likely to experience deterioration of the bone within the jaw. Teeth can become loose and even fall out when the supporting structures of the jaw and gums are weakened. Other oral health issues directly associated with smoking include:
Higher risk of infection and dry socket after tooth extraction
Increased probability that the patient will develop gum disease
Longer recovery time following oral surgery or periodontal therapy
Higher likelihood that dental implants will fail
Inflammation and/or blockage of salivary glands located in the roof of the mouth
As any medical professional will agree, the clear solution to these and other health problems is to quit smoking altogether. However, current smokers can help prevent potentially serious complications by visiting D'Amico & Mauck for regular checkups, cleanings and screenings every six months. Periodontal therapy can aid in the reversal of gum disease caused by years of tobacco use, and professional teeth whitening can lift even set-in nicotine stains.
Reclaim Your Oral Health
Whether you're a former smoker interested in repairing damage caused by cigarettes or a current tobacco user with concerns about how it may be affecting your oral health, we're here to help. Contact us at our office in Aurora, CO and schedule your appointment today. We also welcome patients from throughout and around Denver, including the nearby communities in Centennial, Englewood, Boulder, Castlewood, Commerce City and beyond.