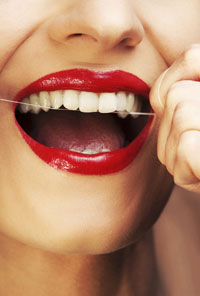 You may be surprised to learn that the most common oral health problem patients of all ages experience isn't something obvious like cavities or bruxism –  it actually doesn't directly affect your teeth at all! Gum disease (also known as periodontal disease) plagues nearly 80% of the population, and while it's relatively harmless in its earliest stages, it can lead to some potentially devastating consequences if left untreated or unnoticed for too long, including tooth loss. Here in Aurora, Drs. D'Amico and Mauck are committed to providing their patients with all the information they need to keep their smiles happy and healthy, whether they're at our office or simply brushing and flossing at home. Have you been wondering if you could be suffering from gum disease? Pain isn't the only indicator of the condition, as some would believe. Here are some common symptoms you can keep an eye out for:
Gums that bleed during or after you've brushed or flossed
Bad breath that isn't alleviated by brushing/mouthwash
A bite that suddenly feels off
Teeth that start to feel loose, as though they're shifting
Receding gums (teeth that appear longer)
Additionally, here are some risk factors that can heighten your chances of experiencing gum disease.
If you regularly use tobacco and/or smoke
If you've undergone therapy for cancer at some point
If you regularly clench or grind your teeth
If you experience stress constantly
Poor nutrition
Contact D'Amico and Mauck, DDS, today if you have any questions about the threat of gum disease, or if you're ready to schedule an appointment. Drs. D'Amico and Mauck offer periodontal therapy that can effectively treat your gums and restore health to your smile. We welcome patients from all over the greater Denver area, including Aurora, Centennial, Englewood, Parker, Denver Tech Center, and beyond.