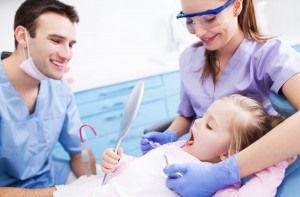 When it comes to your kids, you want to make sure that they get the best in everything – from proper nutrition at home to a future with a good education and career. Giving your children the best possible start in the oral healthcare department should be a top priority, too, building the foundation for a happy, healthy smile for decades to come. At D'Amico & Mauck, DDS in Aurora, CO, Dr. Nicholas D'Amico and Dr. Matt Mauck provide our youngest patients with all of the essential general dental care they need to keep on smiling.
Prevention is the Key
Your little one's teeth go through a lot during the first few years of their development. In order to make sure that everything is progressing as it should from the very start, we recommend having your kids visit the dentist by the age of three. These initial checkups allow Dr. D'Amico and Dr. Mauck to assess the growth and health of the primary teeth.
We'll talk with you about how your child's teeth and gums should be cleaned at home, as well as look for any signs of decay. We can recommend fluoride treatments to strengthen young teeth and sealants to protect them. For older children who are involved in sports, we can provide customized athletic mouth guards to prevent oral injury while they play. As a parent, you can rest assured in the knowledge that you'll be apprised of every step of your child's oral healthcare process.
At D'Amico & Mauck, DDS, we believe that visiting the dentist should be a fun, positive experience, especially for our youngest patients. We'll do everything we can to make sure your children feel welcome, calm and comfortable so that every visit to the dentist in the future will be a pleasant one.
Protect Their Pearly Whites 
There are few things more important than ensuring your child's future oral health. Contact our office in Aurora, CO today to discover what a difference our dedication, compassion and expertise can make in your kids' dental experience. Drs. D'Amico and Mauck happily welcome patients from throughout the entire Denver area, as well as from the surrounding communities of Englewood, Centennial, Boulder and more.