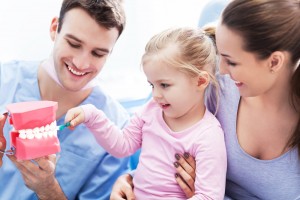 For an adult, the prospect of losing a tooth can be terrifying – unless, of course, you are the proud parent of a little one who is looking forward to his or her first visit from the tooth fairy! At D'Amico & Mauck, DDS in Aurora, CO, Dr. Nicholas D'Amico and Dr. Matt Mauck offer a wide range of general and family dentistry services, as well as accurate, reliable information for parents looking to keep their child's smile healthy and looking great.
Tooth Loss Time Table
In most cases, a child's primary teeth (more commonly referred to as baby teeth) begin to grow loose naturally at around the age of five or six. Girls typically precede boys in tooth eruption and loss, though this isn't always the case. Teeth will generally fall out in the order in which they erupted, with the two bottom front teeth – lower central incisors – coming out first. The two top teeth, or upper central incisors, are next. By the age of about 9 to 12, all four of the canines will be lost and replaced gradually by adult teeth.
Under normal circumstances, all primary teeth will have been lost by the age of about 12 or 13 years. It is important to remember that, while baby teeth will eventually be replaced by permanent ones, their care during these formative years is still incredibly important. Proper oral hygiene at home and regular visits to our office will ensure that your child's smile remains as healthy as it is bright.
Tooth Loss as an Adult
Of course, tooth loss doesn't only affect children. The loss of a permanent tooth is a very serious event and should be addressed as soon as possible by our trusted team of doctors and staff. If you are an adult and are missing one or more permanent teeth, please contact our office to schedule your consultation with Drs. D'Amico and Mauck. We'd be happy to provide you with a full array of tooth replacement options, including crown and bridgework, dentures and partials, and dental implants.
D'Amico & Mauck: Your Trusted Source for Comprehensive Care
Whether your child has already begun to lose his or her primary teeth and you have concerns regarding childhood oral health, or you'd simply like to schedule a routine checkup appointment, we're here to help. Contact our office in Aurora, CO today and speak with our caring, experienced staff. Our conveniently located office proudly serves families from throughout the Aurora area, as well as nearby communities in Denver, Englewood, Centennial, Parker, and beyond.