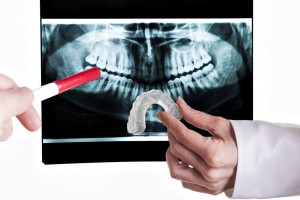 Bruxism isn't a common household term, and the majority of people who suffer from it aren't even aware that they're affected by it. So what is bruxism and how important is it to treat it? At D'Amico & Mauck, DDS in Aurora, CO, Dr. Nicholas D'Amico and Dr. Matt Mauck offer an all-encompassing selection of general dentistry services to patients in need of help with a variety of dental health concerns, including bruxism.
How Bruxism Affects You
Bruxism, or teeth grinding, typically occurs at night when the patient is completely unaware that they are engaging in the behavior. Extreme forces, much more intense than those experienced during daily chewing, are exerted by the jaws. In some cases, the jaws are simply clenched tightly as the patient sleeps. In others, the clenching graduates to a grinding movement that moves back and forth. This grinding may even become loud enough to wake a sleeping partner, therefore disturbing an otherwise restful night.
Though patients with bruxism are not conscious of their nightly activities, there are some things that you can keep watch for between visits to our office. Signs and symptoms associated with bruxism include the following:
Teeth that appear shorter, flatter, or otherwise worn down
Increased sensitivity to hot and cold as enamel is worn away
Aching or fatigue in the muscles of the jaw, face, or head
Chronic headaches, particularly in the morning
Damage to inner cheek or tongue
Earaches that are caused by the extreme tension in the jaw muscle
Fortunately, there are solutions to bruxism that can help stop the destructive nighttime cycle. Ask our doctors about how a customized oral appliance, fabricated specifically for you, can put an end to your teeth grinding concerns in a way that suits your lifestyle.
Schedule Your Consultation Today
Do you or your partner suffer from any of the symptoms of bruxism? Are you interested in learning more about how treatment for bruxism can help you enjoy improved oral health and a better quality of life overall? We invite you to contact our office in Aurora, CO to talk to our staff and to schedule your appointment with Drs. D'Amico and Mauck today. Our doctors happily welcome patients from throughout the greater Aurora area, in addition to surrounding communities in Parker, Englewood, Centennial, Denver, and more.