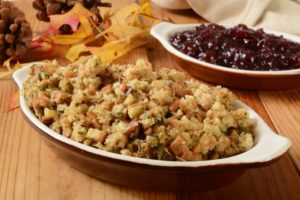 There were only two firsthand accounts ever written about the first Thanksgiving, so historical records are a bit spotty, but it's believed the feast most likely occurred in the fall of 1621. Roughly 90 Wampanoag Native Americans joined 53 Pilgrims for the occasion.
Four centuries later, you and your family help keep the Thanksgiving tradition going. As opposed to the deer and lobster at the first Thanksgiving, you and your loved ones may be thinking about turkey and stuffing. As you move to Christmastime cuisine, the sugar factor is likely to keep rising.
Holiday foods are tasty and favorites of many people, but for the sake of your oral health, it's important to look out for your teeth this time of year. Keep reading to learn more from your dentist in Aurora about some delicious items that potentially endanger your enamel.
Dressing
Also known as stuffing depending on its location relative to the turkey, this dish that peaks in popularity around the holidays is no friend to your teeth. Dressing is mainly carbohydrates and, like sugary foods, starchy fare promotes the growth of anaerobic bacteria. They feed on the sugars that starches break down into. Then, the bacteria secrete acid as they metabolize the sugars, which weakens tooth enamel.
Sugary Baked Goods
Cookies and other sugary baked items are tough on your teeth. Try to exercise moderation with them during the holidays. Your waistline isn't the only concerned party at the thought of a Christmas cookie bonanza.
Dried Fruit
At first glance, some people might think that all fruit is good fruit for you, but that isn't the case. Dried fruit sticks to the surfaces of your teeth similar to gummy candy. This is fuel for cavity-causing bacteria. Lean toward fresh fruit in the interest of your oral health. While it doesn't have its own section in this particular blog post, cranberry sauce isn't great for your teeth due to its high sugar content.
Eggnog
Many people enjoy eggnog as the weather grows cold, but it's important to be aware of the high sugar content. Not that the alcohol often mixed with eggnog is great for teeth, but eggnog is the greater concern. When looking for a relaxing drink that doesn't put such a burden on enamel, consider a sugar-free gin and tonic.
Candy Canes
When thinking about candy canes, remember what you've learned about Halloween candy consumption. The bad part about hard candy, other than the potential danger of chipping your tooth, is that if you try to chew it then the sugar sticks to your teeth longer. If you suck on it, then the candy is still in direct contact with your teeth for a greater duration than a less troublesome option like dark chocolate would be.
The items mentioned here are popular because many people think they taste good, but it's important for you to understand what they can do to your teeth, as well. If you want to enjoy potentially problematic foods, be sure to brush your teeth afterward. Also, swishing around some water in your mouth is helpful to remove food particles and prevent the accumulation of bacteria.
About the Practice
At Mauck & Ricci, DDS, we want you to feel at home from your first visit. It's important to us that you express your concerns so we can inform you of all your options. We provide a full range of dental services with affordable dental financing. We understand that there are a lot of tempting holiday foods out there, and it's good to be aware of how they impact your teeth. Brushing after you eat is a great idea. If you want to make sure your teeth are doing great during or after the holiday season, schedule an exam and cleaning by visiting our website or calling (303) 745-1400.