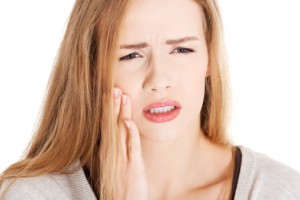 Do you often suffer from headaches, a sore jaw, or tense muscles in your neck and shoulders? Perhaps you've noticed that your teeth appear to be shorter, flatter, or more worn down than they once were. These are common symptoms of two interrelated oral health concerns: TMJ disorder and bruxism. TMJ disorder, or temporomandibular joint disorder, affects millions of Americans, causing a variety of unpleasant symptoms that can interfere with your daily life. Bruxism, or teeth grinding, can lead to multiple oral health concerns as well, though many affected by the problem aren't even aware of the issue.
Effective Treatment for Teeth Grinding & Jaw Clenching
At the Aurora, CO dental office of Dr. Nicholas D'Amico and Dr. Matt Mauck, our team provides the families in our community with comprehensive general and preventive dentistry solutions, including treatment for TMJ disorder and bruxism.
Because these conditions can result in lasting damage to the teeth and jaw, it is best to diagnose and treat them as soon as possible. This is one of the reasons that we emphasize the importance of scheduling general checkups and exams at least twice per year, or once every six months. We'll assess not only the health of your teeth and gums, but the way your jaw functions and the way your teeth fit together.
If it is determined that you are unconsciously clenching your jaw or grinding your teeth, our team can help. With a customized oral appliance, we can effectively halt the progression of damage and alleviate the discomfort commonly associated with TMJ disorder and bruxism. The majority of patients report feeling immense relief from their symptoms after just one or two nights of use. Our team will take the time to talk with you about your unique symptoms and develop a treatment plan that is perfect for you.
Schedule Your Consultation Today
Don't spend another day suffering from the pain and damage caused by TMJ disorder or bruxism. Contact our office in Aurora, CO today to schedule your consultation with Drs. D'Amico and Mauck, and discover the difference our expertise and advanced technology can make in your smile and in your oral health. Our practice proudly serves families from throughout Aurora, CO and the surrounding areas, including Denver Tech Center, Centennial, Englewood, Denver, Parker, and beyond. We genuinely look forward to serving you!