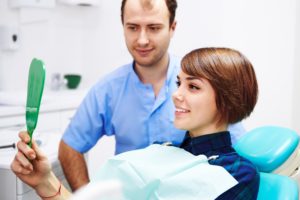 Cosmetic dental bonding offers a lot of bang for your buck. It provides a quick fix for a variety of dental issues. A cosmetic resin creates natural-looking results, but it can discolor if you aren't careful, just like your enamel. Unfortunately, whitening products won't have any effect on the color of your bonding. Don't worry, your cosmetic dentist has the solution you need to restore your pearly whites.
What is Cosmetic Dental Bonding?
Cosmetic dental bonding is a popular service that provides both restorative and cosmetic benefits. A resin is shaded to the color of your enamel to blend in when used to fix a variety of issues, including:
Decay
Exposed tooth roots
Stains or discoloration
Chips or cracks
Misshapen tooth
The non-invasive procedure provides noticeable results in just one appointment. Bonding can last for 5 to 10 years before needing to be replaced.
Tooth Discoloration and Dental Bonding
The resin used for dental bonding can stain over time when exposed to factors that can discolor your natural teeth, like coffee, poor oral hygiene, or red wine. Whitening treatments are effective at getting your teeth up to 8 shades whiter, but they won't change the color of dental bonding.
The resin isn't porous like your enamel, so it won't get any whiter. Not to mention, it can weaken the bond between the resin and your tooth.
You don't have to live with a discolored smile. Your dentist can remove the material and whiten your teeth. New resin can be applied to match the color of your teeth for seamless results.
Maintaining a White Smile
You can keep your teeth and bonding their whitest by following a few tips:
Commit to Brushing and Flossing: Brush your teeth at least twice a day using a soft-bristled toothbrush and non-abrasive toothpaste. Clean all surfaces of your teeth for at least 2 minutes and floss every night.
Stop Smoking: Don't smoke or use tobacco to prevent tar and nicotine stains.
Watch What You Eat: Limit how often you have stain-causing foods and drinks. As a rule of thumb, if it can stain a white t-shirt, it can stain your teeth. If you can't resist a cup of coffee, drink it all at once and rinse your mouth with water after you've finished.
Visit Your Dentist: Visit your dentist every 6 months for a cleaning and checkup.
Skip OTC Whitening Products: Don't use any over-the-counter whitening products without consulting with your dentist first. It's best to leave cosmetic treatments to professionals.
Replace Your Bonding: Older bonding is more likely to discolor. Replacing the material can restore your smile's vibrancy.
You can enjoy a bright, beautiful smile that lasts by giving your teeth the attention they deserve.
About Dr. Andrew Ricci
Dr. Ricci earned his dental degree from the University of Southern California Ostrow School of Dentistry and has continued his education regularly in many specialties, like cosmetic dentistry, dental implants, and oral surgery. Request an appointment through our website or call (303) 974-4442.