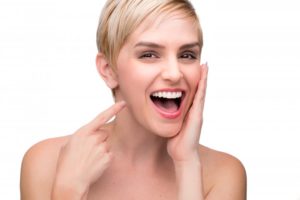 Your friends have told you about a popular way to measure how white your teeth are – the tissue paper test. When you hold up a piece next to your smile, you're not very happy with what you see in the mirror. You notice that your teeth aren't as white as you'd like them to be. But what can you do about it? Your local dentist has an easy remedy – teeth whitening in Aurora. Continue reading to learn how the process works and ways to prevent stains from reoccurring.
How Does the Teeth Whitening Process Work?
Teeth whitening uses powerful bleaching agents to attack the stains that embed themselves in your enamel, which is the hard, outer layer of your teeth. These stubborn blemishes can't be removed by your oral hygiene routine, as the products can't penetrate deep enough. Thus, you need an application that is strong yet safe, which is where your cosmetic dentist in Aurora comes in.
He'll equip you with a take-home whitening kit and instructions on how to safely use it. This method offers two primary advantages:
You will be given a professional grade of hydrogen peroxide to brighten your teeth, which means you'll see results faster than over-the-counter methods can offer. In addition, your brilliant smile will last longer.
Although your dentist's whitener will be stronger, you can feel secure about the process because your dentist will begin with a smile assessment, which help him determine how much of the bleaching agent you need to apply to safely deliver the results you desire.
You will simply place each tray full of gel in your mouth for the time period you're instructed to, and with every treatment, you'll notice an improvement in the quality of your smile.
How to Prevent Stains
One way that you can fight against stains is to monitor the types of foods you consume and the beverages you drink.
Here are some examples of what you should limit:
Coffee, tea and wine are notorious for staining your teeth. One reason is that they contain a natural coloring agent called tannin.
Also, try to limit your consumption of foods like tomato sauce, mustard and certain berries.
Another point to keep in mind is, if you eat or drink some of the items listed above or others that could contribute to staining, be sure to rinse your mouth immediately afterwards and brush your teeth. These practices will help to remove the leftover food particles before they can settle in and stain your teeth.
A unique service that your dentist in Aurora offers is the Whitening for Life program. It provides a way to receive preventive and cosmetic dentistry all in one visit – a checkup, cleaning and free touch-up whitening gel.
So to learn more about how you can experience the ultimate in total care, reach out to your dentist today!
About the Author
Dr. Matt Mauck earned his DDS degree from the University of Colorado School of Dental Medicine and has remained hungry to learn and grow as a dentist since. A member of several professional organizations, Dr. Mauck continues to pursue knowledge and deliver expert care from D' Amico & Mauck, DDS. He can be reached for more information through his website.