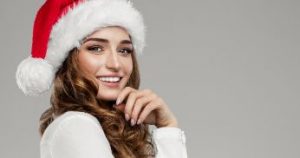 If you're like most people, you look forward to the holiday season because of all the good things that come with it, but you don't look forward to searching for the perfect gifts. If you've ever spent hours aimlessly wandering around the mall in vain, you can relate! But one simple solution that you may not have considered is teeth whitening in Aurora. It's the perfect way to give someone a newfound sense of self-confidence that will last – you could even call it the gift that keeps on giving! Learn more below about the best whitening option and why it makes a fantastic gift.
What's the Most Effective Kind of Whitening?
If you want to purchase a whitening treatment that you can rely on, a professional option is the way to go. The strength of over-the-counter whitening products from the store are limited by the FDA, so they can't provide the same results you'll get from a dentist in Aurora.
By wearing custom-made trays filled with a professional whitening gel for 30-60 minutes a day (for about two weeks), you can expect results between 6-10 shades brighter.
Also, some dentists offer a program called Whitening for Life that provides free refills of whitening gel when you come in for two annual checkups. Most people need to touch up their results about once a year, so this is a great way to do that and save some money at the same time!
Teeth Whitening: A Perfect Holiday Gift
The holidays are a special time to enjoy doing things that you might not normally do. That usually means indulging in eggnog and holiday cookies, but in the case of teeth whitening, you won't have to worry about holiday weight gain.
For anyone who feels self-conscious or embarrassed about stained or discolored teeth, a simple whitening treatment can dramatically increase their self-confidence and enhance every area of their life. And, in many cases, it's something they might not do for themselves.
Not to mention – if you don't usually buy things for yourself, the holidays are a great time to splurge on your own appearance and go into the new year with a beautiful smile!
About the Author
Dr. Andrew Ricci is a general and cosmetic dentist in Aurora who gets immense professional satisfaction from giving his patients a smile they can be proud of. Whether doing a simple whitening treatment or a more involved smile makeover, he works closely with his patients to make sure they get the results they want. If you're considering teeth whitening as a gift this holiday season and have any other questions, he can be contacted via his website or at (303) 745-1400.