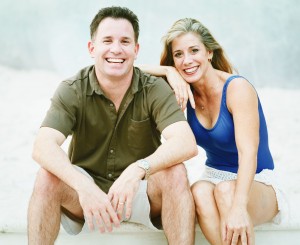 Beautiful teeth can go a long way in building one's confidence, and there's no reason why they should have to be out of reach! However, sometimes patients are facing so many problems – cracks, stains, and misalignments, to name a few – that the dental work needed can seem truly overwhelming. But what if there was a way to simply give your smile a "do-over?" With the help of porcelain veneers, Drs. D'Amico and Mauck can do just that! After only two appointments, our Aurora, CO team promises that this transformative cosmetic procedure will help your smile stand out in the best way possible.
What are porcelain veneers?
Veneers are wafer-thin pieces of dental porcelain that are bonded directly to the front teeth. Better yet, they're designed specifically to fit each patient's unique features and desires. After you attend a thorough evaluation so that our team can acquire all the necessary information, we'll send our notes off to the lab, where your veneers will be carefully crafted. Then, once they've arrived, all that's left is for you to return to the office and have them placed!
Porcelain veneers have several benefits, including:
They're virtually undetectable to your peers
They appear just like natural teeth, even reflecting light in the same way!
Resistant against stains, ensuring that your smile stays whiter longer
Isn't it time you stopped settling for a smile that's lackluster in appearance? At D'Amico and Mauck, DDS, our team is committed to providing patients from all walks of life with kind, personalized dental care that leaves your teeth healthier and happier than ever before. Contact our Aurora, CO office if you have any questions about porcelain veneers, or if you're ready to schedule an appointment. We serve the entire Denver area, including Centennial, Englewood, Parker, Denver Tech Center, and beyond.