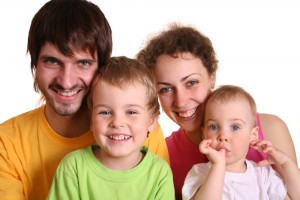 When you're a parent, it can be frustrating to keep up with all the different doctors and specialists your family needs to stay healthy. Wouldn't it be nice to simplify all those trips and headaches to one comprehensive practice? Look no further than D'Amico and Mauck, DDS – we're happy to provide personalized dental care to patients of all ages at our Aurora office. With the help of various family dentistry services, we'll lead you and your children through various stages of oral health, ensuring that your pearly whites stay healthy for years to come.
When it comes down it, family dentistry isn't a set of unique dental services – instead, it's more a state of mind. Our team knows that smiles of all ages need compassionate and concise care that fits their unique condition; that's why we want you to feel comfortable bringing all of your loved ones in to see us, whether they're 8 or 88.
As with general dentistry, family dentistry begins with routine check-ups and cleanings. We want to be sure to catch signs of decay or injury as early as possible so that we can treat them quickly and effectively, saving you from more complex care down the line. In addition, we can provide extra help to the littlest smiles in your family – children's teeth often benefit from receiving dental sealants and fluoride treatments. Dental sealants add an extra-strong layer to the deepest crevices in your teeth, protecting them from potentially damaging bacteria; additionally, fluoride treatments can help strengthen enamel by attracting important minerals to the teeth.
Don't keep running all over town in order to ensure your kids receive the best care – you can find it and more here at the practice of Drs. D'Amico and Mauck. Contact our Aurora, CO office today to schedule an appointment for you and your loved ones. We're also happy to see patients from the greater Denver area, including Centennial, Eaglewood, and Parker.