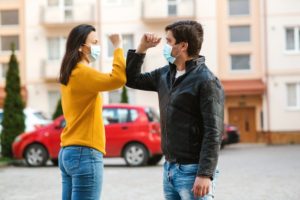 If you have an underlying health condition, such as a chronic disease, chances are you're worried about contracting the coronavirus. Since you're considered "high-risk," you're more likely to develop extreme, potentially fatal complications from the illness. For this reason, you should take your health and safety incredibly serious during these trying times. Here are some safety tips from a dentist in Aurora to help you avoid these possibly life-threatening complications.
Who Is at Risk for COVID-19 Complications?
Adults over the age of 65 are at a much higher risk for COVID-19-related complications than those younger than 65. In fact, the CDC has reported that so far, 8 out of every 10 COVID-19 deaths are those older than 65.
Other conditions that could put you at risk for complications include:
Diabetes (both type 1 and type 2)
Heart disease
Lung conditions
Obesity
Chronic kidney disease
Weakened immune systems, such as with HIV/AIDS or cancer treatment
Liver disease
How Can You Protect Yourself from Getting Infected?
Here are some tips to keep yourself as safe as possible from the virus:
Stay home unless you absolutely have to go out.
When you do go out, wear a face mask, and avoid touching your face until you have washed your hands.
Maintain a distance of at least six feet between you and other people.
Wash your hands often with soap and water for at least 20 seconds (enough time to sing the alphabet song). If you don't have access to soap and water, use hand sanitizer when you can.
If you need to cough or sneeze, do so into your elbow instead of your hands.
If you feel sick, stay home.
Before traveling to a hotel or visiting a restaurant, call ahead and check to see which safety precautions they are taking.
Before going to a place of worship, consider whether there will be enough space for al the worshippers to be at least six feet apart from each other. If not, worship from home instead.
Many grocery stores offer special hours for high-risk patients. Call your local store and find out when this is (it's usually early in the morning). During these hours, the stores are sanitized more often, and social distancing is more strictly enforced.
If you're at a high risk for coronavirus-related complications, it's perfectly understandable to be worried during these trying times. However, by following the tips listed above, you can drastically reduce your risk.
About the Author
Dr. Matt Mauck is a dentist in Aurora who earned his Doctor of Dental Surgery degree from the University of Colorado School of Dental Medicine. His professional memberships include the Academy of General Dentistry, the Colorado Dental Association, the Metropolitan Denver Dental Association, and the American Dental Association. His practice takes several precautions to keep the office as safe as possible for all patients, especially those with high risks of complications. To learn more about these precautions, you can visit Dr. Mauck's website.