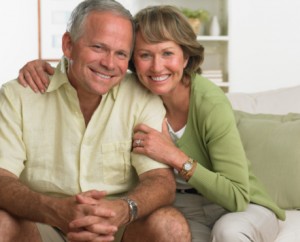 Obtaining that perfect, beautifully white smile you always dreamed of can be a bit of a challenge. Keeping up with brushing and flossing will definitely help, but sometimes the unexpected can hit us smack in the face. Injuries, bacterial infections, decay, and other factors can seemingly come out of nowhere and plague our teeth and gums. Luckily, the office of D'Amico & Mauck, DDS, home of experienced and seasoned practitioners, has comfortable and effective solutions to your dental woes.
Giving You a Better Smile
Restorative dentistry can enhance your smile and restore the problem areas in your mouth back to a functional, stellar-looking state. Whether you have a cracked, fractured tooth, missing tooth, or decay eating at one of your teeth, the doctors and staff are well equipped and ready to fix any situation. The treatments used to fix your oral issues are painless, and with the friendly, warm atmosphere of our office, you can sit through your procedure in comfort. Take solace knowing that doctors D'Amico and Mauck are award-winning practitioners who have performed these procedures to perfection a thousand times over. Prepare yourself to receive a better smile.
Types of Procedures
Our restorative dentistry procedures can fix any type of crack, infection, etc. with your teeth. We offer the following treatments:
Crown and Bridgework: This procedure is specifically for those with cracked or fractured teeth. A porcelain cap is placed on the injured area, sealing it and protecting it from further damage or infection.
Dental Implants: If you lost a tooth, we can provide a permanent replacement for you. Titanium posts are placed in the jaw via oral surgery. Dental implant restorations fit atop the posts, replacing the missing tooth.
Dentures: This solution applies to those who lost most or all of their teeth. We will map out your mouth and create a set of durable, long-lasting dentures to give you a full set of teeth.
Get Comprehensive Care
Let our team restore your smile back to a natural, wonderful state with our unmatched care. Contact our office by phone or email, set up an appointment, and allow our professionals fix your dental problems today. Located in Aurora, CO, we welcome patients from Centennial, Englewood, Parker, and beyond.