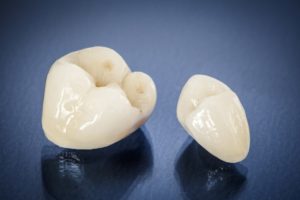 If you have a damaged tooth or one at risk of breaking, your dentist might have recommended a dental crown. The restoration is the most widely used treatment in restorative dentistry because they are versatile to resolve several issues. Although you might think all dental crowns in Aurora are the same, you have multiple options when picking a material to make your restoration. Here are a few of the most common options when needing a crown.
Types of Dental Crowns
A crown is a custom-made cap that's bonded over the entire visible surface of a tooth down to the gum line. In the past, there were typically made of metal and used for restorative purposes; however, they now hold a commonplace in cosmetic dentistry thanks to all-ceramic material. Your dentist will help you choose the best one to meet your needs and your specifications, such as:
Ceramic: Ceramic is often recommended for restoring the front teeth because they closely mimic what nature gave you. A porcelain-based material allows it to be customized to match your enamel to blend in with your teeth.
Porcelain-Fused to Metal: The crown has a metal inner structure that supports a porcelain exterior. This makes it stronger than an all-ceramic crown without compromising aesthetics.
Gold Alloys: Gold crowns are made of a mixture of copper, gold, and other metals to create a durable restoration that doesn't fracture.
Base Metal Alloys: The crown consists of non-noble metals that are very resistant to corrosion for an exceptionally strong crown. It's also less invasive because less tooth structure is removed to fit the crown.
Which Option is Right for Me?
Your dentist will consider several factors when recommending a material such as the quality of the tooth that's being treated. If the tooth is significantly compromised, you may not be a candidate for all-ceramic crowns because the seals may leak. Metal restorations tend to have a good seal against leakage. They are also more durable than those made of all-ceramic, but they are very noticeable. If you're concerned about aesthetics, your dentist might suggest an all-ceramic or porcelain-fused to metal as an alternative. You'll have a high-quality restoration that looks natural.
What about the Cost?
Believe it or not, there isn't a big price difference between any option because most materials are covered under dental insurance benefits. Although every policy differs, most plans include some coverage for restorations. Your dentist will work on your behalf with your insurance carrier to file the necessary claim forms to lower the amount you need to pay out-of-pocket.
If you're ready to repair your damaged tooth, choose a dentist who uses a high-quality material. You'll enjoy a beautiful, flawless crown that functions like a real tooth.
About Dr. Matt Mauck
Dr. Mauck achieved his Doctor of Dental Surgery Degree at the University of Colorado School of Dental Medicine. He has also completed 2 additional years of training to treat even the most complex oral health issues, like bite concerns. If you need a dental restoration, Dr. Mauck offers the advanced solutions you need. Contact our office today to schedule your consultation.