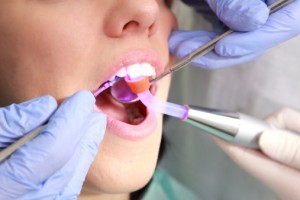 Has it been a while since you've seen your dentist in Aurora? If so, then you may be missing out on the advantages of today's dental technology. Digital x-rays, intraoral cameras and laser-based therapies are enhancing patient comfort and improving treatment outcomes. You and your family can enjoy these benefits regardless of whether you need only basic care or treatment from a cosmetic dentist in Aurora.
Using Digital Imaging to Spot Problems Sooner
What if technology could give your dentist a second pair of eyes to see what's going on inside your mouth? That's exactly what you can expect thanks to modern intraoral cameras. Here's how these breakthrough devices benefit you the patient:
By enabling quicker diagnoses. With older methods, problems like fractured teeth could escape notice until they became serious conditions. Intraoral imaging allows your dentist to detect these problems sooner.
By empowering the patient. Intraoral cameras enable you to see everything your dentist sees, making you an active partner in the treatment process.
Bringing Digital Power to the World of X-Rays
X-Ray machines transformed the field of dentistry when they were first introduced. But traditional x-ray equipment can be bulky and awkward to use. Today's digital imaging devices have made those old-school approaches obsolete. Here's why digital is better:
No waiting. Getting a quality x-ray used to require lengthy waiting times for image development. Now your dentist can have the results of the scan immediately, sparing you from needless uncertainty.
No chemicals. Digital x-rays use none of the toxic compounds associated with older techniques.
Less radiation. Digital x-rays reduce radiation exposure by up to 90%.
Treating Dental Problems with the Power of Medical Lasers
Modern dentists use medical lasers to aid in both diagnostic and treatment procedures. Here are some examples of what laser therapy can do:
Remove decayed tissue.
Prepare a tooth for filling.
Excise tiny amounts of tissue for biopsies, with no need for scalpels or other cutting instruments.
Remove painful lesions inside the mouth.
Treat canker sores.
Whiten teeth (when used alongside a bleaching solution).
Spotting Cavities Sooner
In the past, spotting cavities was sometimes quite a challenge. Dentists had to rely on their eyesight to catch problems early.
Today many clinics have a powerful diagnostic tool called Diagnodent, which can measure tooth enamel thickness to within a few millionths of an inch. This enables them to detect cavities sooner, sparing you from the need to see an emergency dentist in Aurora.
"All this sounds great," you may be saying. "But how can I know if my dentist's office uses the latest technology?"
The easiest way to find out is to simply ask. After all, you're more than just a patient. You're also a healthcare consumer with the right to know what you're paying for. Taking the time to choose the right provider will help to ensure that you and your family receive the very best care possible, both now and in the future.
About the Author
Dr. Andrew Ricci earned his DDS degree from University of Southern California Ostrow School of Dentistry, graduating in the top 10% of his class. Since his graduation, he has completed advanced training in many facets of restorative dentistry, including implant and root canal techniques. You can reach his office online or by calling (303) 745-1400.