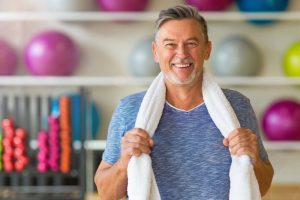 This June is the perfect time to learn how preventive dental care and early detection can impact men's overall health and wellbeing. Sometimes, your mouth can feel like a completely separate entity from the rest of your body, but it's more connected than you may think. Recent research has connected poor men's oral hygiene to a greater risk of developing various illnesses and diseases found throughout the body. Get a clean bill of health from your dentist in Aurora this National Men's Oral Health Month and avoid these common dental conditions below.
Skipping A Routine Dental Visit Can Put You At Risk
The American Dental Association recommends visiting your dentist every six months to maintain healthy gums and teeth. Even if you keep up with your oral hygiene routine, there are some hard-to-reach places in your mouth that require professional cleaning. Skipping regular checkups and cleanings can open the door for small oral issues like cavities to turn into bigger ones, like dental decay and infection. Not only does that mean you'll need more invasive treatment, but it can also impact your overall health.
Recent research has connected common oral health problems like gum disease to various illnesses found throughout the body. Some of these conditions include:
Diabetes
Alzheimer's disease
Respiratory problems
Oral cancer
Heart disease
Men And Oral Cancer
Men are twice as likely to develop oral cancer, which can severely impact your overall health. You may not have noticed, but each time you visit your dentist, they'll conduct an oral cancer screening. By inspecting your oral tissue, tongue, and cheeks for abnormalities like red and white sores and patches, your emergency dentist in Aurora may be able to stop oral cancer in its tracks. Because this is a fast-progressing disease, it's important to catch it in its early stages so your chances of successfully treating it are higher.
Gum Disease And Men's Health
Gum disease is a common oral health problem that impacts one out of every two adults in America. The American Academy of Periodontology found that 56% of men have this disease as opposed to only 38% of women. Recent research has linked the specific oral bacteria that causes this disease to heart disease, Alzheimer's, and respiratory infections like pneumonia. When these harmful bacteria aren't regularly cleared from your mouth, they can release inflammation-causing toxins that get into your bloodstream and travel to other areas of your body.
Dry Mouth
Although dry mouth doesn't sound like a big deal, when your mouth properly produces saliva, it rinses away bacteria, plaque, and food particles that can cause gum disease and cavities. This condition is more commonly found in men, so it's important to speak to your dentist if you experience dry mouth to see if there are any ways you can combat it.
This National Men's Health Month, taking care of your overall health means looking after your mouth and keeping up with your oral hygiene routine. The best way to get the peace-of-mind that you deserve this June is to visit your dentist and get a clean bill of health.
About the Author
Dr. Matt Mauck has been serving his community of Aurora with healthy smiles for over six years. He is an active member of several professional organizations so he can stay up to date with the latest advancements in his field. He has also won an award from the Academy of General Dentistry. For any questions or to schedule a routine checkup and cleaning, visit his website or contact 303-745-1400.