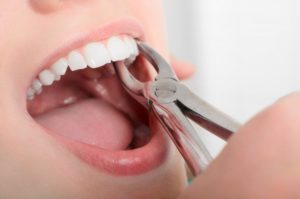 There are some things that people don't want to hear at the dentist. One of the main ones is discovering that you need to have a tooth removed. There are many false beliefs that are held about tooth extractions that make it a dreaded or shocking procedure. However, you may find it's not as bad as you think! Read on to learn about four of the most common myths about tooth extractions.
#1. Tooth Extractions Are Painful
One of the most common false beliefs about tooth extractions is that it's a painful, drawn-out process. While that may have held true in the former days of dentistry, it is no longer the case with the advancements of modern dentistry. Now dentists use minimally invasive extraction methods and progressive anesthetics to ensure you are completely comfortable throughout the entire procedure. In fact, you won't even feel the extraction due to a combination of sedation methods and numbing agents. Additionally, the entire process only lasts a few minutes! While you may feel some discomfort afterward, it can be easily managed with prescription painkillers.
#2. Recovery Is a Long Process
Did you know that some people are able to return to their regular daily schedule within a day after having a tooth removed? The recovery process is nowhere near as long as many people believe! Although it usually takes a few weeks for the tooth socket to heal, the pain and discomfort typically only last for a few days following the procedure. If you diligently follow your dentist's aftercare instructions, you can count on your recovery to be short and smooth sailing! The process is nowhere near as long as most people imagine it to be.
#3. Only Wisdom Teeth Are Extracted
It's a commonly held belief that only wisdom teeth require extraction. In reality, there are other teeth that may need to be extracted for several reasons. If you have a tooth that's severely decayed or damaged beyond repair, your dentist may have to remove the tooth to prevent further infection and pain. An impacted tooth that's causing significant pressure and discomfort might also need to be extracted for relief. Lastly, it's not uncommon for one or more pearly whites to be extracted to get the mouth ready for orthodontic treatment.
#4. Extraction Is Always the Best Option
Oftentimes, people believe that extraction is the "go-to" method to take care of a serious dental issue. For example, if a tooth is severely infected or damaged, it's easy to assume that it must need to be removed. However, that's not always the case. Your dentist's first priority is to do everything they can to keep your smile whole. After a thorough examination, they may recommend a root canal or crown before considering extraction. Getting a tooth removed is always the last option as it's always best to try and preserve as much of your natural tooth as possible.
While there are many misconceptions about tooth extractions, it's important to know the truth about this dental procedure. By knowing the truth behind common myths about getting a tooth removed, you can have peace of mind knowing what to expect from the procedure.
About the Practice
Mauck & Ricci, DDS keeps the smiles of Aurora whole, healthy, and beautiful through the expertise of Dr. Matt Mauck and Dr. Andrew Ricci. They provide a full range of services to keep your oral health in top condition, such as preventive, restorative, cosmetic, and emergency dentistry. As active members of various dental organizations, like the Academy of General Dentistry, their goal is to give you customized care for each unique dental need. To schedule an appointment, contact them through their website or call (303) 745-1400.