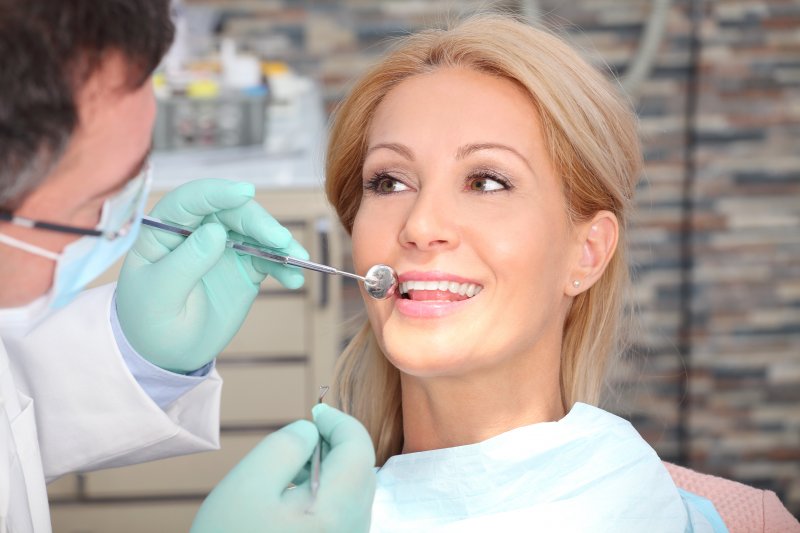 Gum disease is a serious problem among adults in the United States. With millions of people suffering from some form of the disease, many of its symptoms go unnoticed for much longer than they should. Since September is National Gum Care Month, it's time to consider the importance of healthy gums and how gum disease treatment in Aurora can help you take back your oral health. Read on to learn more about the signs associated with gum disease and what you can do to prevent it from occurring.
What is Gum Disease?
Gum disease, also known as periodontal disease, is one of the most common oral health problems in America. Dentists continually see patients with red, swollen, and bleeding gums in Aurora, all of which are key indicators that infection has set in.
Occurring in various stages, gum disease can be mild (gingivitis) or severe (periodontitis). Should it be detected early, you and your dentist can work together to reverse it with regular dental cleanings and healthy, at-home, oral hygiene habits. However, if left untreated, periodontitis can develop and require scaling and root planing to be performed. In the worst scenarios, you can begin to experience bone and tooth loss if your gum disease is not treated in a timely manner.
Some of the signs associated with gum disease include:
Red, puffy, tender gums
Inflamed gums
Bleeding gums
Changes in your bite
Bad breath
Pimple-like sores on your gums near the infection
Receding gums
How Does it Negatively Impact a Person's Overall Health?
Apart from the harmful effects it has on your oral health, the moment the infection and inflammation reach the bloodstream, it can begin to attack various parts of your body, leading to:
Heart attack or stroke
Diabetes
Premature birth or low birth weight
Alzheimer's or dementia
Osteoporosis
Respiratory disease
Cancer
How Is It Treated?
If you are in the latter stages of gum disease (periodontitis), it is likely that your dentist will recommend gum disease treatment, which is also referred to as scaling and root planing. This common process involves removing plaque and tartar build-up from beneath the gum line before smoothing out the tooth root to encourage your gums to reattach.
This type of treatment is performed over several months and will require that you see your dentist more frequently than the average six-month visit.
Can it Be Prevented?
To prevent gum disease from occurring in the first place, there a few steps you can take, such as:
Brushing your teeth twice a day for two minutes
Using a soft-bristled toothbrush and fluoride toothpaste
Flossing at least once a day and using an antimicrobial mouthwash
Keeping your regular dental cleaning and checkup appointments
Limiting or avoiding sugary, acidic, and starchy foods and beverages, as they can cause bacteria to breed
Your teeth aren't the only parts of your mouth you should be concerned about keeping clean. Your gums play a pivotal role in maintaining optimal oral health. By keeping them clean and disease-free, you'll be able to enjoy a beautiful smile for many years.
About the Author
Dr. Matt Mauck has been with D'Amico & Mauck for six years. After graduating from LSU, he opted to pursue a Doctor of Dental Surgery degree from the University of Colorado School of Dental Medicine. He is also a graduate of the Foundations of Advanced Continuing Education. Dr. Mauck is a firm believer in preventive care, which is why gum disease treatment is a valuable and beneficial service provided to patients who are in need of improving their gum health. When regular dental cleanings aren't enough to combat the early stages of periodontal disease, Dr. Mauck and his team implement additional methods to treat the problem and improve overall oral health. To learn more, contact us at (303) 745-1400.