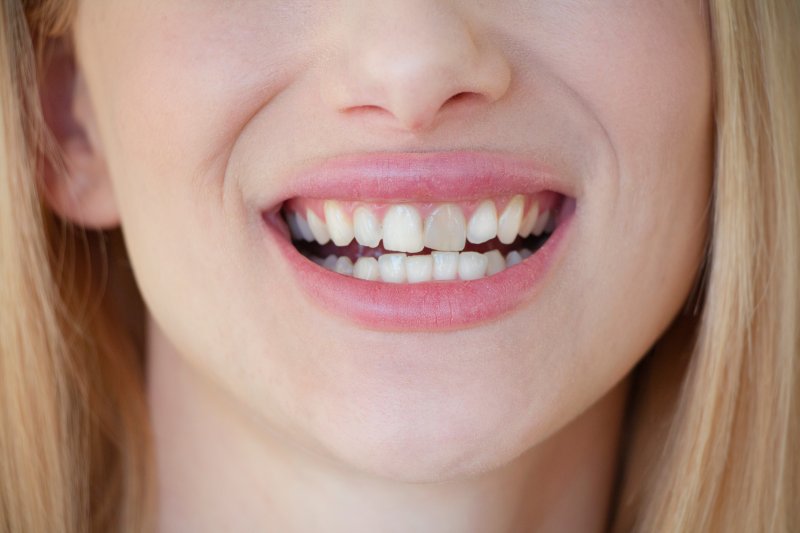 While a healthy smile might appear white, it can take on a darker shade over time. Due to years of wear and tear, many people may get a yellowish tint to their pearly whites which can sometimes be treated with a simple dental cleaning. But what does it mean if you have gray teeth? Read on to learn what can cause this condition and the ways you can treat it!
What Are the Causes of Gray Teeth?
If you have gray or bluish teeth, then they may be an indication of an underlying condition. Here are some of the more common reasons this situation can occur:
Tooth decay: One or more teeth that are decaying can lose a connection to blood flow, eventually dying in the process. This makes the pearly whites begin to appear gray.
Aging: Our teeth grow older as we do, which can cause them to change and look grayish over the years.
Tooth trauma: Similar to bruises, a tooth can develop gray stains due to trauma. While the physical impact can cut off blood flow to it, you may not notice the change in color until months or years later.
Dental restorations: Some restoration materials can make your smile appear darker or gray, such as silver fillings and metal crowns.
Root canal prescriptions: If you require a root canal, then you might receive Ledermix or Ultracal XS—both of which contain active ingredients that cause your teeth to turn grayish-brown.
Dentinogenesis imperfecta: This is a rare, hereditary disorder that can make both baby and mature teeth look blue-gray. It can also make your smile more vulnerable to damage.
How Can You Treat Gray Teeth?
Your dentist may be able to help address gray teeth depending on the reason you have them. Since this can indicate dead pearly whites, they'll need to determine if an infection was the cause so that they can remove it first. This typically involves a root canal treatment to prevent the bacteria from spreading. Once any dental health issues have been resolved, your dentist may offer you restorative or cosmetic treatments to improve your smile—such as crowns, teeth whitening, and porcelain veneers.
Even if you have gray teeth, it doesn't mean you have to live with them forever. Speak with your dentist if you have any questions and want to enhance your pearly whites. They'll be more than happy to discuss your treatment plan!
About the Author
Dr. Matt Mauck earned his dental degree from the University of Colorado School of Dental Medicine and continues to pursue advanced training to refine his skills. He's also a proud member of several groups like the Metropolitan Denver Dental Association and the Academy of General Dentistry. He offers a wide selection of comprehensive treatments, including teeth whitening, porcelain crowns, and veneers to boost your smile. If you'd like to schedule an appointment, feel free to visit our website or call 303-745-1400.