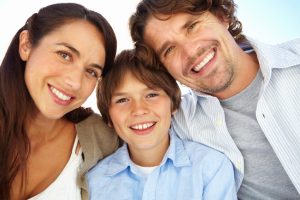 Choosing an Aurora family dentist isn't easy, but keeping a few things in mind can help you make the decision that's best for you and those you love most. After all, families who trust the same dental team with their oral care are more likely to stay on top of preventive appointments. That means they enjoy healthier teeth and gums as a result.
But how do you choose a family dentist? It begins pretty simply — checking out a potential dentist's "about me" page. Here you'll find a lot of the information you need to make an informed decision for you and your family.
When you're considering your options in a family dentist, think about their…
Experience and Training
You want a dentist who has significant experience. Check to see when they began practicing, and then make sure they're involved in professional organizations. Groups like the American Dental Association provide opportunities for continuing education and networking, too. Great dentists are never finished learning — yours should value education, too.
Services Offered
Make sure your dentist offers a wide range of services. Smiles have different needs throughout a lifetime, and your family dentist should be able to meet a variety of demands. From children's dentistry to cosmetic treatments, dental implant services, and more, the best family dentists offer high-quality, comprehensive dentistry.
Location and Office Hours
Running a family requires some tricky scheduling, and visiting the dentist shouldn't add to the stress. When your dentist is easy to reach and open at convenient times, you're far more likely to schedule and follow through with preventive care — and that improves your dental and oral health. While you're considering your options for a dentist in Aurora, make things easier on yourself by starting your search out with practices located near home, school, or work.
Dental Insurance
If you have dental insurance, you should be able to use it. After all, you pay for your benefits — choose a dentist who accepts your plan. Find insurance information on the dentist's website. And even if you don't see your insurance listed, you should still call to ask the office if they can accept it. If your plan is a PPO, or preferred provider option, chances are good the answer is yes. And even if you don't have dental insurance, see whether or not the office offers financing options or discounts on certain treatments or for new patients.
The Overall Vibe
Of course, even if a dentist's office meets all of the above requirements, that doesn't mean it's the right fit for you and your family. When selecting a family dentist, it's worth the time to stop by the office for a visit. Is the place too busy, or does it feel warm and inviting? Does the staff welcome your questions? Trust your first impression — and if you like what you see, you've found your family dentist!
We are confident that your search for a new family dentist will lead you to D'Amico & Mauck DDS. Give us a call today to learn more about our team and what sets us apart. We can't wait to find out about you and your family!