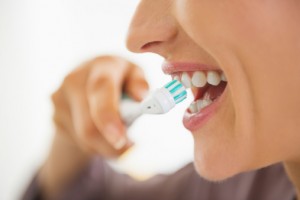 Dr. Nicholas D'Amico and Dr. Matt Mauck want to be your partners in making sure you and each member of your family enjoys the best dental and oral health. As your partner, we can offer tips to improve your at-home oral hygiene routine as we take good care of your teeth and gums in the office of the dentist Aurora relies on to offer a complete menu of preventive, restorative and cosmetic dentistry. Regardless of which stage of life your family members are in, we're here to help.
Brushing and Flossing Properly
Our dentists recommend using a soft bristle toothbrush to clean your teeth. Soft bristles clean well, and unlike hard bristles that may scratch the enamel surface of your teeth, soft bristles are gentle. Also, be sure to use a toothpaste with fluoride, which is a mineral that strengthen teeth's enamel, so you are less prone to tooth decay.
When you brush, hold the brush at a 45-degree angle against the tooth surface. Brush the sides and chewing surface of each tooth, using a short back-and-forth motion. And don't forget to brush your tongue to remove bacteria and have fresh breath.
Flossing is just as important as brushing your teeth, because doing so removes bacteria and food particles that may be trapped between your teeth. Flossing helps to remove sticky plaque that can accumulate between teeth and cause tooth decay or gum disease. Gently guide the floss between your teeth with your index fingers and thumbs. Just follow the curves of your teeth as you move the floss up and down.
In Denver, General Dentistry is Best at D'Amico & Mauck
Everyone in your family, from the youngest to the eldest, should visit the dentist twice each year for a dental checkup. At your checkup, we will clean your teeth, check for visible signs of tooth decay, examine your gums and other soft oral tissue, complete an oral cancer screening, and take digital x-rays when they are needed to reveal any spots of decay that are between teeth or just under the surface.
With the regularity of dental checkups every six months, we can compare from one visit to the next and notice any changes in your oral health that point to a developing problem. If we find a problem, then of course one of our dentists will recommend treatment. Our goal is to correct problems early before they have the chance to grow and become bigger problems as well as bigger expenses.
Call Our Office Today
If you or any member of your family needs any kind of dental care, then schedule an appointment with one of the dentists at D'Amico & Mauck, DDS. Our practice proudly serves families from throughout Aurora, CO, and the surrounding areas, including Denver Tech Center, Centennial, Englewood, Denver, Parker, and beyond.