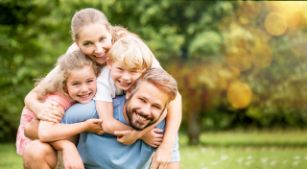 These days, families are busier than ever, which makes scheduling everyone's work, school activities, and dental and doctor's appointments a lot to juggle! But one way to make things a little easier is seeing a family dentist in Aurora. With comprehensive care under one roof for patients of all ages, you won't have to drive all over town to take care of everyone's oral health. At D'Amico and Mauck, our friendly, award-winning care will help everyone in your family achieve a healthy smile. Learn more about the benefits of seeing us for family dentistry below!
We Can See Kids and Adults at the Same Time
Infants, children, teens, and adults have different oral health needs, and our comprehensive care addresses those needs at every age. The American Academy of Pediatric Dentistry recommends the first checkup within six months of getting the first tooth, so we even see children as early as age one. We love helping our littlest patients feel comfortable at the dentist and setting the stage for a lifetime of healthy smiles.
So whether you're scheduling your child's first dental visit, your spouse needs dental implants, or you want porcelain veneers, we've got you covered. And with the convenience of being able to schedule you and your children's appointments at the same time (or back-to-back), you won't have to coordinate care between different offices. We're always happy to work with your schedule so that disruptions to school and work are kept to a minimum.
We Simplify and Maximize Your Insurance Coverage
As a family dentist in Aurora, we're dedicated to serving the community and want to make your care as affordable as possible. We're not only in-network with Delta Dental Premier, the largest dental benefits carrier in the U.S, but we also accept most major PPOs.
Our team always works hard to help you get the most from your benefits, and we're happy to process and file your claims to make everything as simple and convenient as possible.
Award-Winning Care For Your Family
Simply put, we love what we do. Between combining the art and science of dentistry to give our patients healthy smiles and getting to know each and every patient, our team has fun at work every single day. And when you combine that with years of experience, advanced training and the latest technology, you can bet that you and your family will have a great experience at every visit.
On a final note, feel free to call or stop by anytime with questions, or if you'd like to see what we offer. We look forward to meeting you!
About D'Amico & Mauck
At D'Amico and Mauck, we're proud to serve the Aurora community and look forward to many years of service in the area. Our two Aurora, CO dentists, Dr. Matt Mauck and Dr. Andrew Ricci, love working with patients of all ages and continually pursue advanced training to provide comprehensive care for the whole family. If you'd like to know more about your family's oral health or have any questions, they can be reached via their website.