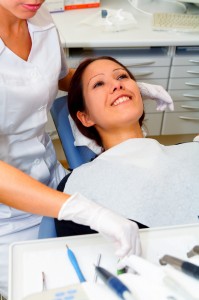 When it comes to providing patients with the most up-to-date and effective dental care available, keeping up with the latest technology is key – after all, modern tools and methods can enhance comfort, bolster patient education, and make care much more efficient and thorough, among other positive aspects. At D'Amico and Mauck, DDS, we've taken this idea to heart. After all, our team is committed to providing mouths of all shapes and sizes with the most precise and personalized oral health care available! That's why we've outfitted our Aurora, CO office with various dental technologies that are guaranteed to help make any and all dental procedures you undergo run smoothly. Let, Dr. D'Amico, Dr. Mauck and their dedicated staff give you something to smile about!
Here are just a few examples of the dental technologies we offer:
Digital X-rays
Digital radiography produce quicker, more detailed images of your mouth than traditional X-ray machines do, which results in our patients receiving much more concise care. Better yet, they produce up to 90% less radiation!
DIAGNOdent
We do our best to catch dental decay and damage as soon as possible to save you from undergoing more complex treatment – DIAGNOdent helps make that goal easier! With the help of its small, non-invasive laser, we can accurately locate even tiny areas of decay.
E4D
The days of messy impressions are over! With the help of revolutionary E4D technology, Drs. D'Amico and Mauck can design and fabricate metal-free inlays, onlays, crowns, and veneers right in their Aurora office. In some cases, we can even complete the entire process in a single appointment!
To learn more about the other amenities our Aurora, CO office can offer you, look here! Dr. D'Amico, Dr. Mauck, and their team can't wait to provide you and your family with thorough, personalized dental care that leaves your teeth happier and healthier. Contact us today to schedule an appointment. In addition to Aurora, we're also happy to see patients from the greater Denver area, including Centennial, Eaglewood, and Parker.