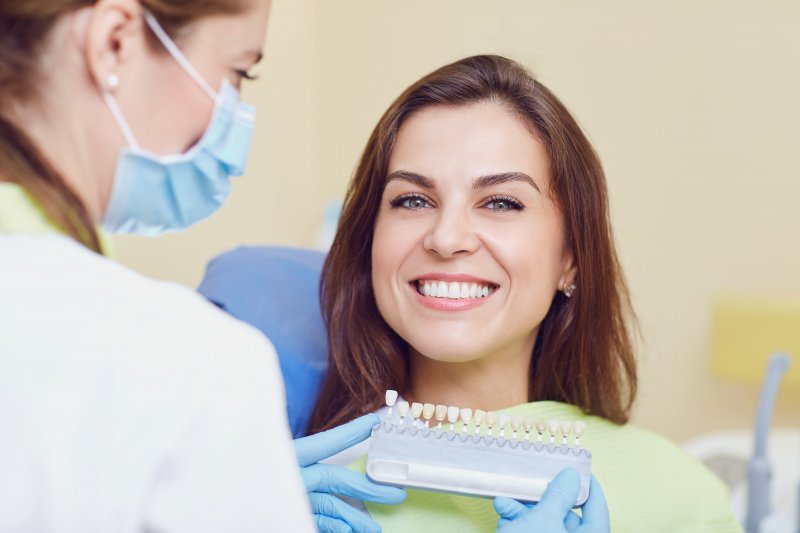 Need to get a dental crown? If you've never gotten one before, you may be wondering if the procedure will hurt. They're often used to repair teeth that are broken, have a large filling, or are otherwise damaged. While it may seem like a daunting process, it's actually far more comfortable than you might think! Read on to learn what to expect when getting a dental crown in Aurora.
The Dental Crown Procedure
Getting a dental crown usually takes place over the course of two appointments, making it a relatively quick service! Although you may experience some sensitivity during the procedure, your dentist will give you an anesthetic to ensure you're as comfortable as possible. Let's take a closer look at each step in the process:
Preparation Visit: At your first appointment, your dentist will examine your tooth and prepare it for the crown. This visit will be longer than your second one because it involves numbing the tooth, filing it down, removing damaged areas, and taking impressions for the lab. Because you'll receive a local anesthetic, you shouldn't feel a thing during this step.
Final Placement: Once your final dental crown is ready for placement, you'll return to the clinic to have it permanently bonded into place. While this part shouldn't be painful, your dentist might use a numbing agent to ensure you're as comfortable as possible.
What to Expect During Recovery
The recovery process should not take long at all! Any irritation, tenderness, and inflammation you feel should resolve within a few days. You can ease your discomfort by taking over-the-counter pain medication and using a cold compress. If you're experiencing a significant amount of pain or your bite does not feel comfortable after a few days, contact your dentist for assistance. They'll examine your mouth and make any necessary adjustments.
What Happens If You Choose Not to Get a Dental Crown?
You should never put off a dental crown procedure, especially if your dentist said you needed one. Failing to get a dental crown in Aurora will put your damaged or decayed tooth at risk, causing even more damage and putting you at risk of developing sores and irritation in your mouth. Plus, choosing not to move forward with treatment can increase your chances of needing more complex and expensive procedures down the line, like a root canal or extraction.
As you can see, getting a dental crown in Aurora is not as daunting as you may think. With the help of a skilled and experienced dentist, the entire process will be comfortable and smooth sailing!
About the Practice
Mauck & Ricci, DDS is led by two phenomenal dentists, Dr. Mauck and Dr. Ricci. They share a passion for delivering high-quality, comprehensive, and personalized dental care for patients of all ages. If you have any questions about your dental crown procedure, don't hesitate to ask. You can make an appointment online or call (303) 745-1400.