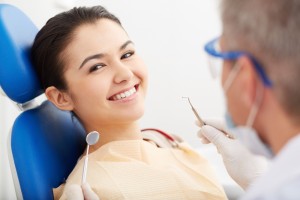 You probably already know that what your put in your mouth has a lot to do with how you feel. A nutritious and well-balanced diet is key to maintaining your health. But it's not only what goes in your mouth that matters to your overall well being. The condition of your mouth plays a vital role in the health of your body. Your dentist in Aurora can help you have healthy teeth and gums so you can reap the benefits of excellent general health, too. Continue reading to learn more about the link between oral and general health.
The Oral-Systemic Connection
Researchers have found that there is indeed a link between the oral cavity and other vital organs of the body. Called the oral-systemic connection, this integral link is largely dependent on the health of periodontal or gum tissue.
Millions of bacteria call your mouth home. Without proper oral hygiene at home and regular dental cleanings and exams, these bacteria can multiply unchecked. When this happens, gum disease could develop. This bacterial infection slowly destroys gum tissue as well the bone structure that supports and secures your teeth. In fact, the leading reason for tooth loss among American adults is advanced gum disease.
Oral Bacteria and Your General Health
Unfortunately, oral bacteria are not restricted to the mouth. The same bacteria that destroy teeth and gums can lead to several bodily diseases and illnesses.
For example, bleeding gums are sometimes an indicator of periodontal disease. In this case, bacteria now have access to the bloodstream and can travel to other parts of the body. Similarly, just breathing in can draw bacteria into your respiratory systems.
The conditions associated with oral bacterial infection include:
Hypertension
Heart Disease
Stroke
Dementia
Pneumonia
Depression
Pregnancy Complications
Caring for Your Smile and Your Health
Your family dentist in Aurora is dedicated to keeping you and your mouth healthy. But we need your help.
First, proper daily oral hygiene is essential. Brush twice each day with a soft toothbrush and fluoride toothpaste. Don't forget to floss! Flossing removes bacterial plaque that can build up between teeth and along the gum line.
If not removed regularly, plaque hardens and becomes tartar, which can only be removed by professional periodontal therapy. Left untreated, the bacteria in tartar will eventually destroy gum and bone tissue.
Finally, regular dental checkups help to ensure you have a clean mouth that is free of plaque and tartar. We not only clean your teeth, but we also carefully examine gum tissue for any signs of disease.
If you need a dental checkup to keep your mouth and body in good shape, call the office today.
MEET THE D'AMICO & MAUCK, DDS TEAM
At the Aurora dental office of D'Amico & Mauck, DDS, we love to see our patients smile. We want to help you achieve your healthiest and most beautiful smile, as well as overall health and well being. Give our team a call to schedule an appointment with us in our state-of-the-art Aurora dentistry practice.