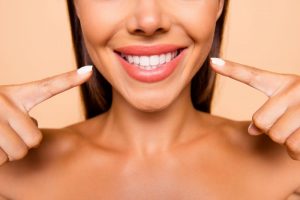 Has your dentist in Aurora emphasized the importance of protecting your enamel but never gone into full-blown detail about what exactly it is? Now you're probably left with questions like how important is it? Can you repair it? Not only can this protective layer on your teeth defend your mouth from common oral health problems like decay, but by fortifying it, you'll be able to enjoy your natural teeth for longer. Here are all the answers to your questions about enamel. <
What is Enamel?
The enamel on your teeth is the hard, outermost layer of them that acts as a shield against harmful oral bacteria, plaque, and tartar. It's considered the hardest mineral substance in the human body and primarily consists of the mineral hydroxyapatite. It's made of 96 percent minerals; the rest is composed of water and organic material.
Even though it's so strong, acid given off by harmful oral bacteria or certain foods and drinks can wear away this protective layer. Harmful oral bacteria feed off of plaque and release acids that attack the enamel, softening the surface of your tooth and leaving it vulnerable to a variety of issues.
How Do You Know if Your Enamel Has Worn Away?
If you're reading this and wondering how much of your enamel is still intact, it would be nearly impossible to be able to tell. When you're experiencing any of these symptoms, it's possible that there has been damage to the protective layer of your teeth:
Tooth Sensitivity: Increased sensitivity to hot and cold temperatures can be an early sign of enamel loss. Try brushing with a remineralizing sensitive toothpaste to avoid more discomfort.
Roughness Around the Edges: During the early stages of enamel loss, your teeth could begin becoming rough around the edges or indented on the surface.
Change in Shape and Color: If your teeth begin looking yellow or shiny, it could signify enamel loss.
Can You Regenerate Enamel?
Once the enamel on your teeth has been damaged, it cannot be entirely repaired. However, if it's weakened, there are oral hygiene products such as toothpaste that can help improve its mineral content and restore it to a certain degree. These products encourage minerals like calcium to bond to the weak areas of your enamel to help prevent erosion and decay.
What are the Best Ways to Protect Your Enamel?
Every day when you brush and floss, you're fighting against enamel erosion and tooth decay. When plaque and harmful bacteria go unremoved from your mouth, they can wreak havoc on your teeth and result in cavities, infections, and even tooth loss.
By going for a dental checkup in Aurora every six months, your dentist can inspect for any damaged teeth and provide you with necessary treatment. They'll also give you a professional cleaning to remove harmful plaque buildup from the hard-to-reach nooks and crannies of your mouth to protect your enamel from damage. Scheduling your appointment today will get you one step closer to a smile that you can be proud of.
About the Author
Dr. Matt Mauck has been serving his community of Aurora, CO for over six years. He has also completed an additional two years of advanced training on functional occlusion and focuses on furthering his education every chance he gets. He is an active member of multiple professional organizations including the Colorado Dental Association, which allows him to keep up-to-date with the latest advancements in his field. For questions or to schedule an appointment, visit D'Amico & Mauck, DDS' website or call 303-745-1400.