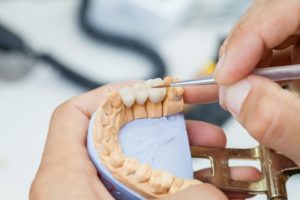 If you're tired of seeing the gap in your smile whenever you catch a glimpse of your reflection, you might have looked into ways of rebuilding your smile. Dental bridges and partial dentures are both lifelike, durable tooth replacements, but how can you choose which one to get? Read on as a dentist in Aurora explains the difference between partial dentures and dental bridges – and how to tell which solution is right for you!
An Overview of Partial Dentures
Also known as partials, partial dentures consist of a pink acrylic base, a small number of prosthetic teeth, and metal clasps that fit behind the remaining teeth to secure the denture into place. The artificial teeth can be placed at various locations to fill the gaps created by missing teeth, no matter where they were located in your smile.
Partial dentures come with several benefits, including:
Removable – If you wish to clean your partial or sleep without it at night, you can simply take it out.
Natural appearance – Your partial will be custom-made to blend in with your gums as well as your remaining teeth.
Prevent bite problems – By filling the empty spaces in your smile, partials prevent your remaining teeth from drifting out of place and causing bite alignment issues.
What You Should Know About Dental Bridges
A dental bridge is designed to replace one to three missing teeth in a row with a lifelike solution. It consists of a several dental crowns strung together. The two crowns on the end are hollowed out and place on the teeth at either end of the empty space (called abutment teeth). Then, one to three replacement teeth (known as pontics) are suspended between them.
Bridges provide many of the same benefits as partial dentures. For instance, they both effectively prevent dental drift by keeping your remaining teeth in place. They are also personalized to resemble your natural pearly whites.
The main difference between partial dentures and dental bridges is that bridges are not removable. Rather, they are fixed onto your teeth for five to 15 years on average. Only a dental professional can take them off.
So, Should You Get a Dental Bridge or a Partial Denture?
The right solution for you depends on many factors, including the number of teeth you've lost. If you've only lost one or two teeth, then you might benefit more from a bridge. However, if you're missing several teeth throughout your mouth, then a partial denture might be more suitable. Your risk of losing additional teeth in the future will also influence the restoration your dentist recommends.
Ultimately, though, the best person to help you decide how to replace your missing teeth is your dentist in Aurora. Now that you know the basic differences between dental bridges and partial dentures, they can help you make the right choice for your smile.
About the Practice
At D'Amico and Mauck, DDS, Dr. Matt Mauck and Dr. Andrew Ricci provide patients in the Aurora, CO community with multiple tooth replacement options, including bridges and partials. If you're ready to find out the best way to rebuild your smile, contact their office by calling (303) 745-1400 or visiting their website.