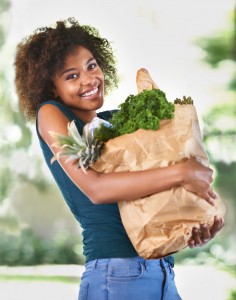 These days, Americans are pretty well-versed in what's healthy and what's not. Whether we incorporate them into our diets is a different matter — but we pretty much all know that leafy greens and proteins are good for us, while processed foods and refined sugars are generally not. But do you ever think about the fact that what you eat has a significant impact on your oral health, too? That maintaining healthy teeth goes beyond avoiding sticky, sugary candy? You can have a significant impact on your oral health by keeping a few nutritional facts in mind — keep reading for more from your Aurora dentist.

Smart Choices for Healthy Teeth
Start thinking about those teeth before you eat and drink and you'll be on your way to a healthier smile — and likely a brighter one, too. Following are just a few tips on better nutrition for stronger teeth.
Stay (smartly) hydrated
When your mouth is properly hydrated, it's easier for it to wash away decay-causing bacteria. Keep your saliva flowing by quenching your thirst throughout the day — but make smart choices while you're at it. Avoid sugary beverages, like soda or sugared tea. Stick to water for healthier hydration; your teeth (and the rest of your body) will love you for it.
Watch When You Eat — Not Just What
When it comes to keeping your mouth healthy, it's not just about what you eat. It's also about when you eat. Snacking throughout the day can put your mouth at higher risk for bacteria buildup than eating three full meals a day. That's because your mouth produces more saliva during a full meal compared to a snack, meaning more fluid to help wash away decay-causing bacteria. But if you just can't make it through the day without snacking a little bit, at least make it a healthy one — like a piece of fruit or low-fat cheese.
Vary What You Eat
You should also remember to eat a variety of healthy foods on your quest for strong oral health. Whole grains, fresh fruits and vegetables, low-fat dairy products and lean protein sources are all staples of a stable, healthy diet. Sources of the following will help keep your mouth healthy for years to come:
Found in dairy products, nuts and dark green vegetables like spinach and broccoli, calcium helps fortify your teeth to keep them strong against decay.
Whole grains. When you're at the grocery store, be careful to choose the whole grain option in pasta, bread and rice. These grains haven't been refined, meaning all the grain's micronutrients remain intact for optimal nutrition.
It may sound surprising that acidic citrus is good for your teeth, but in limited amounts, vitamin C in sources like oranges, grapefruits and pineapples helps keep your gums healthy against gingivitis. Just make sure your teeth aren't in contact with citrus for long periods of time, as too much citric acid can erode teeth.
Remember the Healthy Teeth Triple Threat
In addition to a nutritious diet, you should also maintain an excellent oral health routine — including brushing for two minutes, twice a day, flossing once a day and visiting your dentist every six months. These are small steps in exchange for teeth that will last you a lifetime — so don't cut corners. Schedule your appointment today at D'Amico & Mauck DDS, your dentists in Aurora.