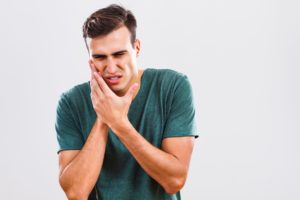 From restaurants to hair salons, it seems like virtually every business is closed due to COVID-19. One place that has remained open, though, is your dentist's office. However, they are generally only treating dental emergencies. But how can you tell when you truly need to visit your emergency dentist? Should you go to the ER instead? Keep reading to learn the answers.
When Should You See Your Emergency Dentist?
If you encounter any of the following situations, you should quickly contact your emergency dentist (NOT the emergency room):
Knocked-out tooth
Severe toothache
Broken or seriously chipped tooth
Lost crown, bridge, or filling
Persistent bleeding
Broken retainer, nightguard, or dentures
While some of these situations are more urgent than others, they all warrant calling your dentist and scheduling an appointment as soon as you can.
Why Should You Visit Your Dentist Instead of the ER?
Generally, hospitals don't have a dentist on staff. Therefore, they don't have the required training or equipment needed to deal with dental emergencies. The doctors there might be able to give you antibiotics or painkillers to tide you over, but they often can't address the root of the problem in the way that your emergency dentist can.
Especially now, in the time of COVID-19, you should avoid the emergency room unless you absolutely have to go. The waiting room will be filled with patients with all kinds of medical problems, which may include the coronavirus. You don't want to risk catching the virus just to fix your broken tooth. Not to mention, many hospitals are currently (or are rapidly on their way to becoming) overrun with COVID-19 cases. They may not have the staff necessary to see you, at least not without long wait times.
Should You Ever Go to the ER for a Dental Problem?
There are a few situations in which it's advisable to travel to the ER in the case of a dental emergency, such as if you have a knocked-out tooth and your dentist's office is closed for the day. It's also recommended if:
Your mouth is bleeding profusely, even after applying firm pressure for longer than 15 minutes
You suspect your jaw may be broken or dislocated
You are experiencing swelling that obstructs your airway or impacts your ability to swallow
As a rule of thumb, your dentist is better prepared to handle dental emergencies than the team at the ER. Going to the emergency dentist instead could end up saving your tooth!
About the Author
Dr. Matt Mauck is a general and emergency dentist who is also a graduate of the University of Colorado School of Dental Medicine. In the past, he has won a prestigious award from the Academy of General Dentistry. If you contact his Aurora, CO office with a dental emergency, his team will do their utmost to get you in for an appointment as soon as possible. To learn more, give his practice a call at (303) 745-1400.