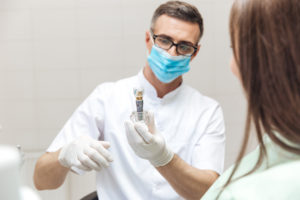 If you're considering replacing missing teeth with an implant supported dental restoration, you probably have a lot of questions. One question many patients don't think to ask is, "What dental implant materials are available?" Many people assume that there is only one option. Actually, there are numerous materials available each with its own advantages and disadvantages. Before you begin your dental implant tooth replacement plan, talk to your dentist about the available implant materials and which will work best for you. In this post, we'll review some of the many dental implant materials available to help you prepare to talk to your dentist about these advanced tooth replacement plans.

Common Implant Materials
There are two main types of dental implants – custom and premade. Premade implant posts are the same size for every patient, and they are typically crafted from lower grade materials. Hand crafted custom implants are usually a better option. They are available in a wider range of high quality materials, and the size, shape, and materials are all completely customizable to meet the needs of your unique implant tooth replacement plan. The original dental implant posts were crafted from titanium. Today, most implants are still crafted from this biocompatible material that has a proven track record for successful implantation. For patients who have allergies or sensitivities to metal, zirconia dental implant posts are gaining in popularity. These implant posts offer the same implant success rates possible with titanium without patients needing to worry about metal allergies. Other materials are being used and tested to craft implant posts, but to-date titanium and zirconia have proven most successful.
The Right Material for You
Before you get started with your implant supported tooth replacement plan, talk to your dentist about their dental labs, implant manufacturers, and available materials. You should let them know about any adverse reactions to metals you've experienced in the past. Many patients notice these allergies after receiving a piercing that fails or becomes inflamed. Your skilled dentist can help you find the best dental implant material to meet your needs.
Meet the D'Amico & Mauck, DDS Team
At D'Amico & Mauck, DDS of Aurora, we are dedicated to offering patients personalized dentistry plans to help them create or maintain the healthiest, most beautiful smiles. We are happy to offer tooth replacement supported by implants crafted from the highest quality materials to improve chances for successful dental implant placement. If you want to learn more about dental implant tooth replacement or any of our other treatment options, call to schedule a consultation appointment with our dedicated dentistry team today. We look forward to seeing you soon.