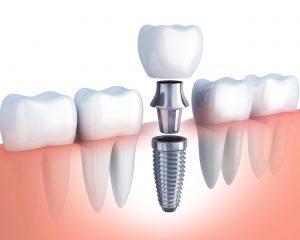 Missing teeth can be a real pain, both literally and figuratively. They can cause you to not be able to enjoy your favorite foods. They can result in speech impediments. They can hinder your ability to be confident in your smile. Luckily, there are ways to fix that – such as dental implants in Aurora. Although they are a great way to restore your missing teeth, they're not perfect and they can fail. Read on to learn what can cause dental implant failure.
What Are Dental Implants?
Dental implants are essentially man-made artificial tooth roots that are surgically placed into the jawbone to replace missing teeth. They are usually made from medical-grade titanium, which is biocompatible, meaning the jawbone will grow around it and will generally not reject it. However, as with just about any medical procedure, there is always a slight chance of failure.
What Can Make Dental Implants Fail?
Short-term dental implant failure is usually due to a failure of the jawbone to grow around the implant, a process called osseointegration. Systemic factors are typically to blame for this kind of failure, such as uncontrolled diabetes, smoking, or low bone density in the jawbone. Having gum disease and poor oral hygiene in general can also put you at risk for implant failure.
Symptoms of implant failure may include mobility of the implant, pain, bleeding, bone loss, and the formation of pus around the implant site. Your dentist in Aurora may also discover the failed implant in an x-ray. More often than not, implant failure is treated by removing the implant, repairing the surgical site with a bone graft and allowing it to heal before placing another implant. This will ensure that the jawbone is strong enough to support an implant.
Long-Term Implant Problems
The most common (and unfortunately the most difficult to treat) reason for long-term implant failure is called peri-implantitis, a chronic infection in the gum tissue and ultimately the jawbone supporting the implant. Symptoms can include discomfort and bleeding or pus around the gums. It can occur as a result of poor oral hygiene, and can happen at any point when you have a dental implant. Peri-implantitis treatments may involve improvements in at-home oral hygiene, more frequent dental cleanings, laser therapies, antibiotics, and surgery to restore the jawbone in the area.
Other reasons for long-term dental implant failure include complications with prosthetics, like broken screws or loose abutments. Fortunately, these are much easier to treat than peri-implantitis!
The next time someone asks, "do dental implants last forever?" in Aurora, now you know the answer. Now you know that generally they do, but there are always some exceptions.
About the Author
Dr. Andrew Ricci earned his doctorate from the University of Southern California Ostrow School of Dentistry. He has also undergone extensive training in dental implants. He is a member of the Academy of General Dentistry, the American Dental Association, the Metro Denver Dental Society, the Colorado Dental Association, and the Academy of Operative Dentistry. If you think your implant might be failing, don't hesitate to contact Dr. Ricci's practice at (303) 745-1400.