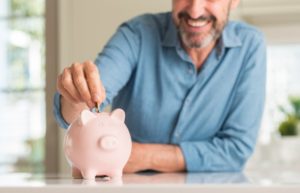 You couldn't be more excited to replace your missing teeth with dental implants – after all, their unique structure makes them look and feel more lifelike than any other option. That is, until you heard about how much they cost. While it's true that dental implants in Aurora have a higher initial price tag than dentures and bridges, they can actually save you money over time! Read on to learn how the dental implant cost can vary, your payment options, and why this solution is worth the investment.
Factors That Affect Dental Implant Cost
Very rarely do two people end up paying the exact same amount for dental implants. Because the treatment is so personalized and consists of multiple steps, the cost can vary based on several factors, including:
The number of implants you need.
The location in the mouth where the implants will be placed.
The materials the implants are made from.
Any preliminary treatments you need before dental implant surgery (bone grafting, tooth extractions, gum disease therapy, etc.).
Options for Paying for Dental Implants
During your consultation, your dentist will provide you with a cost estimate for your treatment. From there, they can discuss payment options. While dental insurance typically won't cover dental implants, there might be exceptions. Your dental team can help you navigate your plan and discover all of the coverage to which you're entitled. They may also offer third-party financing, such as a CareCredit plan, to help you break up your treatment costs into budget-friendly, monthly installments.
The Costs of Not Getting Dental Implants
At first, you might be tempted to save money by choosing a bridge or denture over implants. However, traditional tooth replacements can be more expensive in the long run due to their many hidden costs:
Long-term costs – On average, bridges and dentures must be replaced every five to ten years, compounding their initial lower price. Not to mention, you'd have to continually buy adhesives to stabilize your dentures. Because dental implants can last for 30+ years, you may easily end up spending less money over time.
Health costs – Without tooth roots (or dental implants) to stimulate your jawbone, it begins to deteriorate. Your risks for further tooth loss and gum disease would increase, and your face would appear wrinkled and sunken-in.
Convenience costs – You need to remove regular dentures to clean them, which can take up a lot of time in your day. In most cases, dental implants can be brushed and flossed like real teeth.
Social costs – Dentures can slip or make awkward noises when eating, talking, or laughing, while implants remain in place at all times.
Make an Investment in Your Smile Today!
Even if you just look at it from a financial perspective, dental implants are clearly the smarter choice. When you consider all of the quality-of-life benefits that implants offer, it's no question that they're worth every single penny.
If you're interested in replacing your missing teeth with a lifelike, cost-effective solution, then ask your dentist if dental implants are right for you!
About the Authors
At D'Amico & Mauck, DDS, Dr. Matt Mauck and Dr. Andrew Ricci work closely with a network of dental implant specialists in the Aurora, CO area to ensure high-quality dental implant treatment. They're in-network providers for Delta Dental Premier and will gladly file claims for all insurance plans. Additionally, they make dental implants more affordable by helping patients apply for CareCredit financing. To learn more about dental implant costs, contact their practice at 303-745-1400.