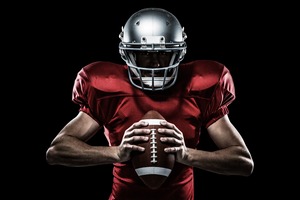 Having a sport you love is a wonderful thing, but it can also put your smile at risk. Statistics show that 13% to 39% of all dental injuries are related to sports in some way. This is especially the case with high-contact activities such as basketball or football. If you play sports, it's important to be familiar with these 4 dental emergencies that often affect athletes.
1. Chipped or Cracked Teeth
When you get hit in the face or mouth, one of your teeth might become chipped or cracked. A chipped tooth isn't always an urgent issue, but it could eventually lead to further problems. A crack, on the other hand, is a much more serious issue that should be dealt with right away.
Call your dentist immediately if your tooth has been damaged in any way. They can help determine exactly how serious the injury is and take whatever steps are necessary to protect your smile from further harm.
2. Fractured Roots
Sometimes the damage to your tooth isn't immediately visible. A sudden impact near your jaws could cause your tooth roots to fracture. You might not even notice the issue at first, but over time it can lead to serious pain and might even increase your risk for infection.
Your dentist might catch fractured tooth roots when taking X-rays during a routine dental examination. If the fracture reaches the pulp, root canal therapy will likely be necessary to save your tooth.
3. Tooth Intrusion
In some cases, one of your teeth might get pushed back into your jawbone as the result of an impact. This can lead to a number of issues, including shortening of the tooth root and infection of the dental pulp. It can even cause ankylosis, which is a condition where the tooth fuses with the surrounding bone.
If a tooth has become intruded, the kind of treatment your dentist suggests will depend on the nature of the damage. Root canal therapy and other procedures can often be performed to save the tooth, but in some situations, an extraction may be necessary.
4. Knocked-Out Tooth
Sadly, it's all too common for teeth to be knocked out of the mouth entirely during sports. Needless to say, a missing tooth can have severe consequences for your oral health, and it can make basic tasks like chewing and speaking more difficult.
It may be possible for your dentist to save a knocked-out tooth if you act quickly enough. That said, in cases where a tooth can't be salvaged, it can sometimes be replaced with a dental implant, bridge, or partial denture.
Don't Forget to Wear a Mouthguard
All of the above dental emergencies can be treated, but it's best to avoid them whenever you can. To keep your smile safe while playing sports, you should invest in a mouthguard. For the best possible protection, talk to your dentist about having a custom mouthguard made.
About the Author
Dr. Matt Mauck earned his Doctor of Dental Surgery at the University of Colorado School of Dental Medicine and is a graduate of FACE (Foundations of Advanced Continuing Education). At Mauck & Ricci, DDS in Aurora, he can provide athletes of all ages with personalized mouthguards to help them avoid dental emergencies on the field or court. To schedule a consultation with Dr. Mauck, visit his website or call (303) 745-1400.