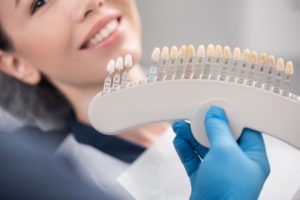 You're inching closer to doing something about your smile flaws. One of the options you've learned about is the placement of porcelain veneers. The custom-made ceramic shells are gaining in popularity, but before committing, you'd like to know what to expect from the procedure. Here's a breakdown of the five major steps involved in receiving veneers in Aurora, so you can make an informed decision and achieve the smile of your dreams!
#1 – Developing a Mental Picture
While this may seem like the first step for a visual artist, it's actually an integral part of the porcelain veneers process. This is where you'll discuss your smile desires. Because you know how you want to look, you'll need to convey that image to the dentist. You can go as far as to share pictures from magazines that represent the look you want to achieve. This will allow the dentist to give you a realistic expectation of what can be accomplished, so you can move forward with confidence.
#2 – Getting a Sneak Peek at Your Smile
Do you want an idea of how you'll look with veneers before starting the procedure? Your dentist can provide a smile preview. This involves creating a life-size model of your teeth that will be used to create temporary veneers. They will be shaped onto the model using wax. While the mock-up can only be worn in-office, it gives you a view of how amazing your new smile will be. Additionally, you'll be able to take pictures for you to reflect on, to help you make your final decision.
#3 – Preparing the Teeth
Once you've committed to receiving veneers, the next step will be the preparation of your teeth. The dentist will use a dental drill to remove part of the front structure, including the biting edges and sides of the teeth. The amount of material removed will be dependent on the desired result and the position of the teeth. Of course, the dentist will look to preserve as much of the original structure as possible.
#4 – Precision Laboratory Work
After your teeth are prepped, an impression will be taken and sent to a trusted dental lab. The technicians will create an exact replica of your teeth that will be used to craft the custom veneers. The fabrication process will take a few weeks to complete. In the interim, you'll be fitted with provisional veneers to protect your teeth as you go through your daily activities. The temporary veneers will be monitored to make sure they allow you to chew and smile comfortably, and that they have the right shape and contour. Once it's established that they are up to standard, the green light will be given to continue.
#5 – The Final Placement
When the veneers come back from the lab, your dentist in Aurora will securely bond them into position. Your teeth will be etched to leave tiny pores in the surface, and then translucent cement will be applied to allow the veneers to permanently adhere. Finally, you'll have the smile you've been dreaming of.
If you have other questions about the porcelain veneers procedure, you can get the answers you're looking for by reaching out to a local cosmetic dentist to schedule a consultation.
About the Author
Dr. Matt Mauck earned his dental degree from the University of Colorado School of Dental Medicine. He understands how important it is to have a healthy and attractive smile, which is why he provides the utmost in cosmetic dental care at his private practice. Dr. Mauck can be reached for more information or to schedule a consultation through his website.