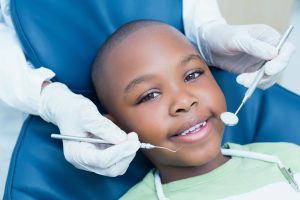 You might think the month of February is all about planning out the perfect date for your significant other, but did you know it's also National Children's Dental Health Month? That means it's the perfect time to learn how to get your son or daughter to start taking great care of their pearly whites. Keep reading to learn a few tips from a children's dentist in Aurora on how to encourage good oral health habits in your child.
Schedule a Checkup
If it has been more than six months since your child has last seen a dentist, call and book an appointment as soon as possible. At these visits, your dentist for kids in Aurora can evaluate the state of your little one's oral health, including checking for early signs of cavities. The dental hygienist will also give your child's teeth a thorough cleaning so their smile will practically sparkle.
Stock Up on Mouth-Healthy Snacks
Although snacks like fruit gummies, sticky candies, and sports drinks might be delicious, they all pose serious risks to your child's dental health. If you have to resort to giving them candy, stick to chocolate instead. It will wash right off their teeth instead of sticky items that can get lodged in the teeth, even after brushing. Whenever you can, substitute sweet treats for fresh fruits and vegetables instead.
Keep Them Hydrated
In the same vein, avoid sugary drinks when possible and stick to water. Ideally, your child should be drinking tap water whenever possible. Tap water is generally fortified with fluoride, which has been proven to strengthen teeth and provide extra protection against cavities.
Let Them Pick Out Their Own Toothbrush
Take your child to the dental section of your pharmacy and allow them to select a toothbrush featuring their favorite color or cartoon character. It may also help to let them choose their own flavor of floss and toothpaste. Kids are more likely to look forward to their oral hygiene routine if they had some input in the buying process.
Track Their Progress
Consider buying a chart where you can place a sticker every time your son or daughter remembers to brush and floss all on their own. When the entire chart is filled up, reward them with a fun activity the whole family can enjoy, like a trip to the park or the museum.
Getting your child to enjoy brushing and flossing can seem like an impossible task at times, but hopefully these tips should make it a little easier!
About the Author
Dr. Matt Mauck is a family dentist in Aurora, CO who is a proud member of the American Dental Association, the organization that created National Children's Dental Health Month. He has also won prestigious awards in the past from the Academy of General Dentistry. He is happy to treat patients of all ages, including little smiles. To learn more, visit Dr. Mauck's website.