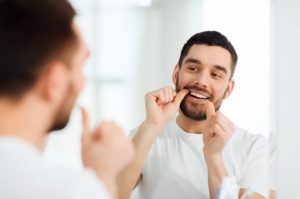 Fun fact: October is National Dental Hygiene Month! Your dentist understands how important this month is, but do you? Did you know that getting a regular cleaning and dental checkup in Aurora is massively important to your oral health? As crucial as dental cleanings are, there are plenty of other ways to keep your mouth clean and healthy between appointments. Here are 5 ways to celebrate National Dental Hygiene Month.
1. Floss at Least Once a Day
Flossing is actually ahead of brushing on this list because you should do it first. When you clean the spaces between your teeth, it opens them up to receiving the fluoride from your toothpaste. You are then provided with extra protection against painful cavities between your teeth. And, your breath will be fresher to boot!
2. Brush Every Morning and Night
Brushing your teeth should be one of the first things you do in the morning and the last thing you do before bed. If you can, use toothpaste with fluoride. It's a naturally occurring mineral that strengthens your teeth against decay. Also, be sure to use a brush with soft bristles so as not to wear down your enamel and leave you with sensitive teeth.
3. Rinse with Mouthwash
Your teeth and gums actually make up less than half of your mouth, so brushing and flossing alone isn't enough to keep your mouth squeaky clean. That's where mouthwash comes in. Rinsing with mouthwash, especially fluoridated mouthwash, is a great way to clean the rest of the soft tissues in your mouth that your toothbrush and floss can't reach. Avoid mouthwash with alcohol, as that could give you dry mouth, which actually leaves you more susceptible to tooth decay.
4. Chew Sugar-Free Gum
According to the American Dental Association, chewing sugarless gum for about 20 minutes after eating can lessen your risk of cavities and gum disease. How so? The act of chewing stimulates the production of saliva, which rinses your mouth of harmful bacteria and leftover food particles. Just make sure the gum doesn't have any sugar!
5. Get a Teeth Cleaning in Aurora
Ideally, you should see your dentist twice a year for a checkup. That way, he or she can make sure your oral health is in good shape. Moreover, your dental hygienist can give your pearly whites a professional cleaning. They will use special tools to remove built-up plaque and tartar that cause tooth decay and gum disease. After that, they will polish your teeth, so they shine extra bright.
Seeing your dentist in Aurora regularly is important for your oral health, but so are all the habits on this list. Implement them into your daily life, and your teeth will thank you down the road.
About the Author
Dr. Matt Mauck achieved his Doctor of Dental Surgery degree from the University of Colorado's School of Dental Medicine. Following that, he graduated from FACE (Foundations of Advanced Continuing Education), having taken a two-year course about advanced facial occlusion. These days, he continues to take post-graduate training courses for the sake of his patients. For more dental hygiene tips, or to schedule your next dental cleaning, you can visit Dr. Mauck's website or call his practice at (303) 745-1400.