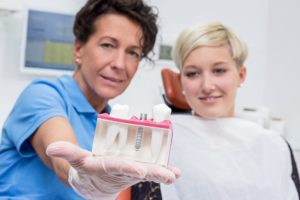 Are you ready to permanently replace your missing teeth with dental implants in Aurora? That's great! The first step to completing your smile involves your implant placement surgery. A titanium post is surgically inserted into your jawbone to serve as a root. As a result, you can expect there to be a bit of a recovery period. There isn't any need to worry. Here's how to ensure there aren't any unexpected complications while your mouth heals.
What Can I Eat After Dental Implant Surgery?
As with any surgery, you can expect there to be some discomfort, which you can manage using an over-the-counter pain reliever. To avoid causing any unnecessary pain and to protect the healing tissues, your dentist in Aurora will recommend a few dietary changes, such as:
Eat a cool liquid diet for the first 24-48 hours after your surgery.
Don't have hot foods or drinks for several hours after your procedure.
Don't drink through a straw or use a water bottle that requires suction for at least 2 weeks.
If you had a sinus lift or bone graft, avoid straws and water bottles requiring suction for at least 1 month.
Only consume "no-chew" foods for the first week, like applesauce and low-fat yogurt.
After the first week, introduce soft foods.
Continue to eat soft foods for the next 3 months to allow your mouth to heal.
Don't eat anything hard or chewy.
Avoid any foods that are spicy.
How Do I Maintain My Oral Hygiene After Implant Surgery?
Your oral hygiene routine is more important than ever while you recover. Your dentist will explain the correct methods for dental implant aftercare before you go home, but here's what it usually includes:
Clean your natural teeth normally using a soft-bristled toothbrush and nonabrasive toothpaste.
Floss between your natural teeth every night.
Avoid brushing the surgical site for at least a couple of days.
After your tenderness improves, carefully clean the surgical sites.
Use a salt water rinse for the first week to keep your mouth clean and reduce inflammation.
Keep food away from the surgical sites.
Don't smoke to avoid delayed healing and infection.
What Else Can I Expect After My Implant Placement Surgery?
Besides a few changes to your diet and oral hygiene, it's best to prepare for any potential side effects while your mouth heals, such as:
Bleeding is normal for up to 24 hours after your placement surgery.
Swelling can be minimized using a cold compress.
Over-the-counter pain relievers can help control any discomfort.
Take any medications, including antibiotics, correctly.
Limit your activities for the first 1-2 days after your procedure.
If you have any questions or concerns, don't hesitate to contact your dentist. With the right care, you can help to ensure your new smile thrives.
About Dr. Matt Mauck
Dr. Mauck earned his dental degree at the University of Colorado School of Dental Medicine. He has undergone advanced training in many specialties, including implant dentistry. If you're ready to replace your missing teeth, contact our office today to schedule an appointment.