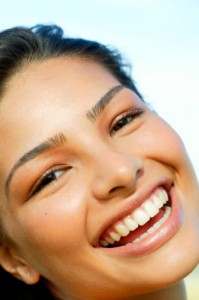 Nicholas D'Amico DDS and Matt Mauck DDS practice exceptional and responsible cosmetic dentistry. Helping their patients achieve healthy and engaging smiles, Doctors D'Amico and Mauck deliver several leading edge cosmetic procedures for even, white, and natural-looking smiles.
Individualized cosmetic dental procedures smooth and perk-up smiles for a better you.
Would you like to look just like you only better? Denver cosmetic dentists Nicholas D'Amico and Matt Mauck DDS help hundreds of patients achieve just that at their Aurora, CO area office. Combining modern dental technology with a sense of artistry, these doctors create healthy and attractive smiles that make others say, "You look great!"

The key is responsible aesthetics.
The American Academy of Cosmetic Dentistry promotes the concept of responsible aesthetics. This means that all dentists should preserve the health, form and function of their patient's teeth, gums and bone structure with these goals in mind:
Patients can have good oral-systemic health.
Smiles can last for a life time.
A restored and cosmetically improved smile would enhance a patient's appearance while letting him or her look natural.
With those outcomes in mind, Doctors D'AmIco and Mauck strive for preventive care, comprehensive examinations and restorative and cosmetic treatments that optimize health and well-being, including self-image.
Doctors D'Amico and Mauck offer many ways to improve a healthy smile.
For the patient without extensive decay or gum disease, cosmetic dentistry in Denver furnishes innovative and budget-conscious ways to:
fill in cracks, chips and cracks
remove stains and discolorations
cover teeth that are dark, misshapen or uneven
strengthen and beautify teeth that have multiple metal fillings
Your Centennial and Denver area cosmetic dentist will evaluate your teeth and gums and also discuss your ideas and desires for how you would like your smile to change. He will write a treatment plan to promote your best dental health and to brighten your teeth and enhance their shape.
Here are some methods Doctors D'Amico and Mauck can utilize to transform smiles:
Teeth whitening. At-home teeth whitening kits feature gel-filled trays that are custom-designed to fit a patient's teeth within a few weeks. Safely used by many of Dr. D'Amico's and Dr. Mauck's teen and adult patients, this cosmetic treatment removes stains and discolorations deep within tooth enamel. Color can improve up to 8 shades and lasts indefinitely with good dental hygiene and touch-ups. The Whitening for LIfe program gives patients free touch-up gel for life with payment of a one-time membership fee.
Cosmetic bonding with composite resin color-matches tooth enamel perfectly and fills in chips, cracks and irregularities in size and shape. Bonding is inexpensive, fast and adds a measure of strength to treated teeth.
Dental veneers are custom-fabricated shells made from beautiful, biocompatible porcelain. Applied to the front sides of teeth with stains, fractures, crowding and chips, veneers may be used with whitening and bonding to complete a smile makeover.
Ingenious E4D technology designs and manufactures dental crowns, inlays and onlays (partial crowns) to repair tooth structure compromised by decay or injury. Perfectly bonded to the prepared natural tooth, these restorations match neighboring teeth and preserve smiles for years.
For an individualized cosmetic treatment plan, contact your Denver cosmetic Dentists.
You can look forward to your best smile by scheduling a consultation with Dr. D'Amico and Dr. Mauck. Call their friendly staff today for an appointment: (303) 990-8120.