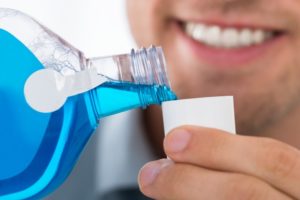 Keeping you safe and healthy has always been a top priority for your Aurora dentist. To safeguard your wellbeing when you come in for your visit during the COVID-19 pandemic, a variety of new infection control protocols have been established. One of these includes rinsing with an antimicrobial mouthwash before your dental appointment begins. Here's what you need to know about this new step in your routine dental treatments in COVID-19.
What is an Antimicrobial Mouthwash?
Specialized antimicrobial mouthwashes may look and smell just like over-the-counter oral rinses, but they work much differently. The mouthwashes you can buy at your local grocery store or pharmacy are "antiseptic," which means they are effective at clearing away bacteria to minimize your risk of infection. However, the Centers for Disease Control and Prevention define an "antimicrobial" oral rinse as a product that is capable of killing or inactivating harmful fungi, bacteria, parasites, and viruses.
Will Rinsing with Antimicrobial Mouthwash Burn?
Mouthwashes that contain a high amount of alcohol can cause a burning sensation when swishing them around in your mouth. Thankfully, antimicrobial oral rinses use activated chlorine dioxide to thoroughly eliminate microbes without causing discomfort. However, if you are still feeling anxious about using it, bring your concerns to your dentist.
Does Antimicrobial Mouthwash Kill COVID-19?
Although antimicrobial mouthwashes are used to combat various issues like gum disease and oral infections, they were not designed to kill COVID-19. Overall, researchers are unsure of what impact these oral rinses have on the coronavirus. However, an antimicrobial mouthwash's effectiveness against a wide variety of harmful particles in your mouth makes it a worthwhile precaution to take, especially before receiving dental care.
Should I Use Mouthwash Every Day to Prevent COVID-19?
It's important to remember that mouthwashes have not been tested against COVID-19 or shown to be an effective way to protect yourself from it. Nevertheless, recent studies on antiseptic mouthwashes indicate that they can eliminate 99% of germs that cause bad breath, gingivitis, and plaque. Using an oral rinse regularly alongside routine brushing and flossing can improve your oral health, which in turn strengthens your immune system and your natural ability to fight off viruses.
As the world begins to reopen, your Aurora dentist is taking every precaution to keep you healthy during your dental appointment. Using mouthwash is an extra layer of protection that can help keep you, your dental team, and the community safe from COVID-19.
About the Practice
As the dental practice of D'Amico & Mauk begins to reopen, we are focused on bolstering the key values we've always focused on. We are dedicated to the wellbeing of Aurora, CO and will continue to put the best interests of our patients first as we monitor the COVID-19 pandemic closely. Now and always, we are adhering to the strict sanitation and infection control standards set forth by the American Dental Association and the Centers for Disease Control and Prevention. If you'd like to learn more about what we're doing to keep our patients, staff, and community safe during the COVID-19 pandemic, feel free to contact us via our website or at (303) 745-1400.