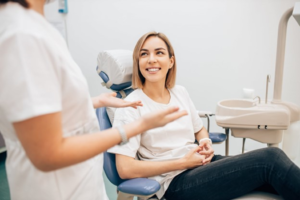 These days, more people than ever before are opting into cosmetic dentistry to achieve a stunning smile that they're excited to show off. In fact, according to the American Academy of Cosmetic Dentistry, the demand for cosmetic dental work has virtually doubled within the last five years! If you've been curious about transforming your smile and you've set up a consultation with your cosmetic dentist, you might be wondering if there are any certain questions worth bringing up during this appointment; after all, the more you know, the better you'll feel about any type of treatment. That said, here are three must-ask questions to keep in mind during your visit.
"How Long Will This Take?"
When it comes to cosmetic dentistry, the length of the treatment depends on what's being done. For example, treatments like in-office teeth whitening or cosmetic dental bonding are both quick and can be carried out in a single appointment. On the other hand, at-home whitening could take longer if you opt for that route, and veneers can take multiple appointments to place as well. Generally, it's wise to have a rough timeline in mind when you're thinking about cosmetic dentistry, and your dentist can help you decide on a treatment plan from there.
"How Much Will Cosmetic Dentistry Cost?"
Since dental insurance doesn't typically offer coverage for elective procedures, including many of those that fall within the category of cosmetic dentistry, you might not have a clue what you'll expect to pay for upgrading your smile. And you might also be worried that cosmetic dentistry is only for the wealthy. However, for the most part, many of these procedures are accessible and many practices offer other ways of financial assistance, including in-house savings plans, financing plans, and other options. It's also worth mentioning that in specific cases when cosmetic treatment is deemed to also be medically necessary, you might be able to use insurance depending on your plan. The bottom line is that the price of cosmetic dentistry is never truly set in stone since every situation and patient's circumstances differ; your dental team is happy to help you clarify things further.
"Is Treatment Going to Be Painful?"
Many patients have concerns about pain when it comes to any type of dental work, but you should be happy to hear that the majority of cosmetic dental work is painless, or it's easily managed with the help of sedation or anesthesia. Before all else, your dentist prioritizes your well-being and will never do anything to harm your smile, so you'll also be appropriately medically cleared before any and all treatments. It won't hurt to receive the smile of your dreams, so don't sweat it!
During your cosmetic dental consultation, you can ask as many questions as you'd like—so don't limit yourself to these three if you think of anything else that you're curious or worried about. Another great idea is asking for examples of your dentist's work or before/after photos to further inspire your confidence.
About the Author
Dr. Matt Mauck received his DDS from the University of Colorado School of Dental Medicine and is a proud member of several prestigious dental organizations, including the American Dental Association, the Colorado Dental Association, and the Academy of General Dentistry. His skilled team is thrilled to offer patients and families in the Aurora, CO community exceptional dental care. If you have any questions about the blog or you'd like to schedule a consultation to see how cosmetic dentistry might benefit your smile, feel free to contact the practice for additional assistance. Telephone: (303) 745-1400.