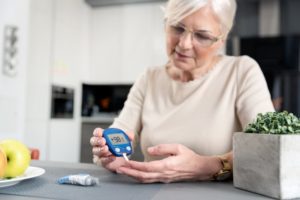 Tooth loss is a common issue throughout the United States. Approximately 178 million Americans are missing at least one tooth while 40 million are without all their teeth. Fortunately, there are several tooth-replacement options to help. Dental implants are preferred because of their numerous benefits, but what if you are diabetic? Read on to learn from your implant dentist in Aurora about the relationship between the two and what you can do to maximize your probability of implant success.
Why Are Diabetics at Higher Risk for Dental Implant Failure?
People with diabetes are at higher risk for dental implant failure for multiple reasons. They take longer to heal from a procedure, and they are more prone to infection. Since diabetics are more susceptible to infection, like gum disease, they are more likely to have an implant fail as a result. An infection around the site of the implant can ultimately lead to complications. Diabetes can also affect the osseointegration process where the implant fuses with the jawbone. Osseointegration takes longer for a diabetic patient so there is a greater chance something will go wrong.
How Can You Increase Your Probability of Success with Dental Implants?
Fortunately, there are numerous steps you can take as a diabetic to increase your chances of dental implant success. Here are a few crucial tips to implement:
Treat Periodontal Disease: If you have periodontal disease, you won't be able to move forward in the dental implant process. It is important you address this infection ahead of time.
See Your Dentist: Dental checkups are important for all patients, especially those with diabetes. Your dentist will check for existing oral health issues and thoroughly clean your smile to prevent problems in the near future.
Get Your Diabetes Under Control: This is the most important thing to do as a diabetic who is considering dental implants. By working with your doctor and seeking advice, you can significantly improve your odds of having successful implants.
Maintain Excellent Oral Hygiene: Diabetes is more prone to oral health issues like tooth decay, dry mouth, and periodontal disease. Brush your teeth twice and floss at least once a day to keep your smile as healthy as possible.
So, are dental implants safe for diabetics? Yes, but you'll need to work with your doctor and dentist to ensure you are a great candidate for a smile upgrade!
About the Practice
At Mauck & Ricci, DDS, we want you to feel at home from your first visit. It's important to us that you express your concerns so we can inform you of all your options. We provide a full range of dental services with affordable dental financing. If you are interested in dental implants, we are partnered with the best oral surgeons in the Aurora area and CareCredit financing is available. Plus, during a free consultation, we can verify you are an implant candidate and discuss every detail of this treatment. You can schedule one on our website or by calling (303) 745-1400.