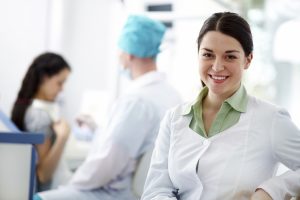 Dental implants have quickly become the most preferred form of tooth replacement with 3 million implants already have been placed. In addition, that number is expected to increase at an annual rate of 500,000 due to the 95 percent success rate of implants. Offering a lifelong solution to treat tooth loss, the dental prosthetics are the only form of tooth replacement that most closely mimics the appearance and function of natural teeth. However, unlike other forms of tooth replacement, dental implants can only be used on some candidates. As a dentist for dental implants in Aurora, D'Amico & Mauck offers the consultation needed to determine if dental implants are right for you.

Am I a Candidate for Dental Implants?
The success rate of dental implants largely relies on two main factors: your bone's density to support the implant and minimal risk factors for infections. In order for the procedure to be successful, your bone must be able to properly heal to the implant post; therefore, if you have decreased bone density you may not be a candidate for dental implants. However, even those with decreased bone density may still be suitable candidates with the use of additional procedures, such as bone grafting. In addition, you must be free from certain medical conditions or medication uses that impact the body's bones or connective tissues.
The largest threat to implant failure involves infections. Those who have healthy gums are often candidates for dental implants. However, there are several factors that must also be considered regarding your risk for infection. To benefit from dental implants, you must practice proper oral hygiene to reduce your risk for infection. Additional lifestyle factors that are considered include alcohol and tobacco use as both limit the body's ability to heal and fight infections.
There are certain medical conditions and medications that can also increase your risk for implant failure due to infection, such as uncontrolled diabetes. Those who have hemophilia or immune deficiencies may not be candidates for dental implants. In addition, those who have had cancers of the head or neck or have undergone radiation or certain cancer treatments may not be suitable candidates.
Dental implants can also not be used on pregnant women or those who have not finished growing.
While it may seem like there are extensive requirements to be a suitable candidate for dental implants, most people who have healthy gums and adequate bone density are candidates for the procedure. To find out if dental implants are right for you, you will need to undergo a thorough consultation with your implant specialist.
Your Dentist for Dental Implants
D'Amico & Mauck is committed to providing high-quality dental care to families in Aurora. We understand that an incomplete smile significantly impacts your quality of life and your confidence. We offer the solutions you need to replace missing teeth, including dental implants. We will perform the necessary consultation to determine if dental implants are right for you. In the event you are not a candidate for dental implants, we offer other forms of tooth replacement to restore your smile.