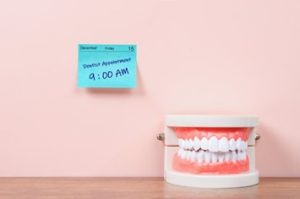 There are many reasons why the American Dental Association recommends visiting your dentist for a regular dental cleaning and checkup every six months. People skip their dental visits for a wide range of reasons. Whether it's due to a busy work schedule or dental-related anxiety, you may consider canceling your appointment. But if you do, you could be putting both your oral and overall health at risk. Read on to see what you could be missing out on by skipping out on your scheduled dentist appointment.
A Gum Disease Diagnosis
Regular dental cleanings at the dental office gets rid of hardened plaque and built-up bacteria that get stuck in the hard-to-reach areas between teeth or hide below your gum line. Untreated bacteria will eventually irritate your gums and may cause bleeding and inflammation. This is gingivitis, the first stage of gum disease and is the only stage that can be reversed. When it remains untreated, the microbes will damage gum tissue, causing it to pull away from your dental roots and form pockets that allow bacteria and pus to collect. Eventually, this infection will lead to the disintegration of your jawbone and cause your teeth to fall out.
Early Detection of Health Conditions
Gum disease has been connected to Alzheimer's, heart disease and stroke. Putting your oral health on the backburner and skipping a dental appointment can put you at risk of missing early signs of these serious health conditions. When you visit the dentist regularly, it provides your doctor with the ability to catch early symptoms of diabetes, oral cancer and dementia. If your dentist finds that you have bleeding gums, loose teeth, lesions in the back of the throat or poor oral hygiene, they may be able to connect these issues with one or more serious health issues.
Catching Tooth Decay Early
Cavities start as tiny pinholes of tooth decay in your enamel. A missed dental visit can allow the decay to deepen, possibly reaching your dental nerve and resulting in the need for a root canal. As the decay spreads, your tooth becomes weaker and weaker, eventually causing it to break or crack. If your dentist is able to catch decay in its beginning stages, it can save you a lot of pain and a lot of money!
Skipping even one appointment can mean the beginning of the end of your beautiful smile. It can also affect your general health. Flossing regularly, brushing twice a day and visiting your dentist at least twice a year is the best way to protect both your oral and overall health.
About the Author
Drs. Matt Mauck and Andrew Ricci are dedicated to providing personalized, life-changing dental care in a comfortable environment. D'Amico & Mauck, DDS offers a wide range of dental treatments that range from preventive care to restorative dentistry and more. If you are ready to achieve your healthiest and most beautiful smile, contact the office at (303) 745-1400 or visit the website to schedule your appointment today.