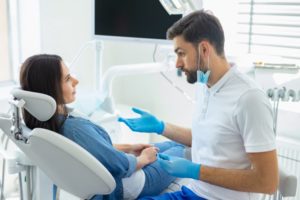 Your mind is full of questions when you're planning to go to the dentist. "Have I brushed frequently enough?" "Will I have any cavities?" "Is there something you could be doing better to improve your dental health?" But at the end of the checkup when your dentist asks if you have any questions, your mind goes completely blank! Unfortunately, you don't know what you don't know. Asking questions is the best way to learn, and your dentist in Aurora, CO wants to help! Here is a list of 10 questions you should ask during your next checkup!
How often should I have a dental cleaning and exam?
Most people are under the impression that they need a dental checkup every 6 months. But not everyone is the same. It's best to ask your dentist for their recommendation for you, specifically.
What is the best dental hygiene regimen for me?
Yes, flossing and brushing at least twice a day is commonly known, but this can vary based on age, dental work you've had done, and health conditions. This is a question that will help you get the most out of your at-home dental care based on your specific needs.
What can I do to improve my smile?
This question is broad, but it gives your dentist room to provide a wide range of information that is specific to you. They can also help you identify things that are not so good for your dental health.
Do I have or am I at risk for any dental health conditions?
This question will start a conversation about the current condition of your mouth. You'll get insight into how you've been doing with your current hygiene regimen and what you can do to improve it.
What dental treatments do I need?
If your dentist or hygienist has recommended various procedures during your appointment, this question will help you understand which ones are needed, which ones are optional, and which ones are purely cosmetic. You should also discuss which courses of action are urgent and which are less so.
What are your payment and financial options/policies?
Knowing the financial policies and payment options for your dental office is always important. Make sure to ask this question before starting any treatment.
How can I keep my teeth white?
Wondering what you can do to help keep your teeth white at home? If at-home teeth whitening isn't quite your style, your dentist can discuss any teeth whitening options they offer and how you can prevent staining between appointments.
Am I grinding my teeth?
Some people suffer from involuntary teeth grinding, known as bruxism. You may not even know it! Ask your dentist if you have any signs of bruxism and what can be done to treat it.
Should I change my diet?
Food has a huge impact on your dental health. Ask your dentist if they can recommend certain dietary changes to help combat any dental issues you may have. This is an excellent way you can help improve your overall health, but more specifically, your dental health.
What types of tools should I be using at home?
There are many kinds of toothbrushes, toothpastes, and types of dental floss on the market, so it can be very intimidating to decide what you should use. The style of toothbrush that is best for you depends on how hard you brush your teeth or even how sensitive your teeth are. Some people benefit more from fluoride toothpaste while others don't necessarily need it. It's best to ask your dentist which products they would recommend specifically for your dental health needs.
This list is a great way to get an in-depth conversation going with your Aurora dentist. Asking these questions will help you get more out of your next dental appointment while also allowing you to understand your dental health. The more you know about your own dental needs, the brighter and whiter your smile will be!
About the Author
Drs. Matt Mauck and Andrew Ricci are the official dentists of the Denver Broncos. Our award-winning dental practice aims to make all our patients feel immediately at home. We use state-of-the-art dental technology to make sure you're getting the best that dentistry has to offer. Best of all, we provide full-service dentistry to meet your every need from cosmetic treatments and general dentistry to specialized dentistry procedures. To learn more, visit our website or contact us at (303)745-1400.